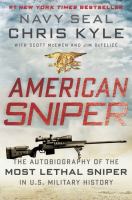 Gripping, eye-opening, and powerful, American Sniper is the astonishing autobiography of SEAL Chief Chris Kyle, who is the record-holding sniper in U.S. military history. Kyle has more than 150 officially confirmed kills (the previous American record was 109), though his remarkable career total has not been made public by the Pentagon.
In this New York Times bestselling memoir, Kyle shares the true story of his extraordinary decade-long career, including his multiple combat tours in Iraq (Operation Iraqi Freedom) and elsewhere from 1999-2009.
Kyle's riveting first-person account of how he went from Texas rodeo cowboy to expert marksman and feared assassin offers a fascinating view of modern-day warfare and one of the most in-depth and illuminating looks into the secret world of Special Ops ever written.
---
Called "the Legend" by fellow navy SEALs, Kyle racked up the most confirmed sniper kills in the history of the United States during a ten-year stint covering four deployments, also earning seven medals, including two Silver Stars. Here he tells not only his story but that of SEAL Team 3, also offering space for wife Taya to reveal the strains of a military marriage.
---
The #1 New York Times bestselling memoir of U.S. Navy Seal Chris Kyle, and the source for Clint Eastwood's blockbuster movie which was nominated for six academy awards, including best picture.
From 1999 to 2009, U.S. Navy SEAL Chris Kyle recorded the most career sniper kills in United States military history. His fellow American warriors, whom he protected with deadly precision from rooftops and stealth positions during the Iraq War, called him "The Legend"; meanwhile, the enemy feared him so much they named him al-Shaitan ("the devil") and placed a bounty on his head. Kyle, who was tragically killed in 2013, writes honestly about the pain of war--including the deaths of two close SEAL teammates--and in moving first-person passages throughout, his wife, Taya, speaks openly about the strains of war on their family, as well as on Chris. Gripping and unforgettable, Kyle's masterful account of his extraordinary battlefield experiences ranks as one of the great war memoirs of all time.