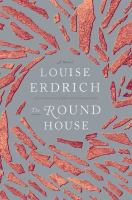 Erdrich continues the trilogy begun with The Plague of Doves with the story of an Ojibwe woman named Geraldine Coutts who is ruthlessly attacked one summer morning in 1988. Because she refuses to speak about the event, her husband, Bazil, and their 13-year-old son, Joe, try to answer the most basic questions, e.g., was the attacker Indian or white? Frustrated, Joe rounds up three friends and hunts for the truth himself. Erdrich is such a natural that one almost forgets how good she is; with a 100,000-copy first printing and a seven-city tour.
---
The Round House won the National Book Award for fiction.
One of the most revered novelists of our time--a brilliant chronicler of Native-American life--Louise Erdrich returns to the territory of her bestselling, Pulitzer Prize finalist The Plague of Doves with The Round House, transporting readers to the Ojibwe reservation in North Dakota. It is an exquisitely told story of a boy on the cusp of manhood who seeks justice and understanding in the wake of a terrible crime that upends and forever transforms his family.
Riveting and suspenseful, arguably the most accessible novel to date from the creator of Love Medicine, The Beet Queen, and The Bingo Palace, Erdrich's The Round House is a page-turning masterpiece of literary fiction--at once a powerful coming-of-age story, a mystery, and a tender, moving novel of family, history, and culture.