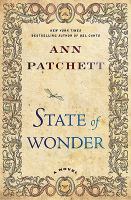 Marina Singh, who's given up her medical practice for the relative quiet of pharmaceutical research, finds her world upturned when she's suddenly sent to the Amazon. A field team there, working on a new drug, has been unresponsive for two years, and Marina's colleague Anders, who has gone to investigate, is reported dead. An adventurous story of science and responsibility from the ever-popular Patchett, who's being rewarded with a one-day laydown on June 7, a 300,000-copy first printing, and a 12-city tour. Buy multiples.
---
Ann Patchett has dazzled readers with her award-winning books, including The Magicians Assistant and the New York Times bestselling Bel Canto. Now she raises the bar with State of Wonder, a provocative and ambitious novel set deep in the Amazon jungle.
Dr. Marina Singh, a research scientist with a Minnesota pharmaceutical company, is sent to Brazil to track down her former mentor, Dr. Annick Swenson, who seems to have all but disappeared in the Amazon while working on what is destined to be an extremely valuable new drug, the development of which has already cost the company a fortune. Nothing about Marinas assignment is easy: not only does no one know where Dr. Swenson is, but the last person who was sent to find her, Marinas research partner Anders Eckman, died before he could complete his mission. Plagued by trepidation, Marina embarks on an odyssey into the insect-infested jungle in hopes of finding her former mentor as well as answers to several troubling questions about her friends death, the state of her companys future, and her own past.
Once found, Dr. Swenson, now in her seventies, is as ruthless and uncompromising as she ever was back in the days of Grand Rounds at Johns Hopkins. With a combination of science and subterfuge, she dominates her research team and the natives she is studying with the force of an imperial ruler. But while she is as threatening as anything the jungle has to offer, the greatest sacrifices to be made are the ones Dr. Swenson asks of herself, and will ultimately ask of Marina, who finds she may still be unable to live up to her teachers expectations.
In a narrative replete with poison arrows, devouring snakes, and a neighboring tribe of cannibals, State of Wonder is a world unto itself, where unlikely beauty stands beside unimaginable loss. It is a tale that leads the reader into the very heart of darkness, and then shows us what lies on the other side.