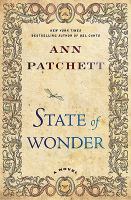 Marina Singh, who's given up her medical practice for the relative quiet of pharmaceutical research, finds her world upturned when she's suddenly sent to the Amazon. A field team there, working on a new drug, has been unresponsive for two years, and Marina's colleague Anders, who has gone to investigate, is reported dead. An adventurous story of science and responsibility from the ever-popular Patchett, who's being rewarded with a one-day laydown on June 7, a 300,000-copy first printing, and a 12-city tour. Buy multiples.
---
"Expect miracles when you read Ann Patchett's fiction."--New York Times Book Review

Award-winning, New York Times bestselling author Ann Patchett returns with a provocative and assured novel of morality and miracles, science and sacrifice set in the Amazon rainforest. Infusing the narrative with the same ingenuity and emotional urgency that pervaded her acclaimed previous novels Bel Canto, Taft, Run, The Magician's Assistant, and The Patron Saint of Liars, Patchett delivers an enthrallingly innovative tale of aspiration, exploration, and attachment in State of Wonder--a gripping adventure story and a profound look at the difficult choices we make in the name of discovery and love.