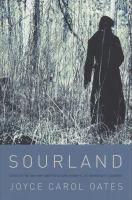 The incomparable Oates-recent winner of the Ivan Sandrof Lifetime Achievement Award from the National Book Critics Circle-offers 16 stories previously published in venues ranging from The New Yorker to Ellery Queen. As the titles suggests, she finds the bite in the banality of life.
---
A gripping and moving new collection of stories that reimagines the meaning of loss—through often unexpected and violent means.

Joyce Carol Oates is not only one of our most important novelists and literary critics, she is also an unparalleled master of the short story. Sourland—sixteen previously uncollected stories that explore how the power of violence, loss, and grief shape both the psyche and the soul—shows us an author work-ing at the height of her powers.

With lapidary precision and an unflinching eye, Oates maps the surprising contours of "ordinary" life. From a desperate man who dons a jack-o'-lantern head as a prelude to a most curious sort of courtship, to a "story of a stabbing" many times recounted in the life of a lonely girl; from a beguiling young woman librarian whose amputee state attracts a married man and father, to a girl hopelessly in love with her renegade, incarcerated cousin; from a professor's wife who finds herself tragically isolated at a party in her own house, to the concluding title story of an unexpectedly redemptive love rooted in radical aloneness and isolation, each story in Sourland resonates beautifully with Oates's trademark fascination for the unpredictable amid the prosaic—the comming-ling of sexual love and violence, the tumult of family life—and shines with her predilection for dark humor and her gift for voice.