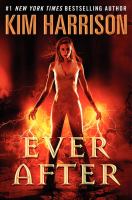 Witch-turned-daywalking-demon Rachel Morgan needs to save the demonic realm of the Ever After in the eleventh entry in the New York Times bestselling Hollows series from supernatural adventure master Kim Harrison.
When Rachel sets off a chain of events that could lead to the end of the world—demonic and human—she must use her gifts to save those closest to her while preventing an apocalypse.
Satisfying and sexy, a visit to the Hollows will take readers on a wild journey that will capture their imagination. Fans of Charlaine Harris and Stephenie Meyer won't be able to resist Kim Harrison's alternative universe—urban fantasy Cincinnati complete with vampires, witches, and other enchanting creatures—where spine-tingling adventures and fast-paced action are the norm.
---
The ever after-the demonic world paralleling that of mere mortals-is in danger of disappearing, and its witch-turned-daywalking demon Rachel Morgans fault. She evidently caused a ley line to rip, and her life is forfeit unless she can mend her mistake. Whats worse, the ever afters most powerful, soul-eating demon has the perfect plan for entrapping her: hes kidnapped her best friend and her goddaughter. Enter elven tycoon Trent Kalamack, who will join Rachel to save her loved ones-and the universe. With a one-day laydown on January 22, 250,000-copy first printing, and ten-city tour.
---
New York Times bestselling author Kim Harrison returns to the sexy, supernatural adventures of Rachel Morgan with the eleventh book in the Hollows series
Ever After
The ever-after, the demonic realm that parallels our own, is shrinking, and if it disappears, so does all magic. It's up to witch-turned-daywalking-demon Rachel Morgan to fix the ever-after before the fragile balance between magic users and humans falls apart.
Of course, there's also the small fact that Rachel is the one who caused the ley line to rip in the first place, and her life is forfeit unless she can fix it. Not to mention the most powerful demon in the ever-afterâe"the soul-eater Ku'Sox Sha-Ku'ruâe"has vowed to destroy her, and has kidnapped her friend and her goddaughter as leverage. If Rachel doesn't give herself up, they will die.
Forced by circumstance, Rachel teams up with elven tycoon Trent Kalamackâe"a partnership fraught with dangers of the heart as well as betrayal of the soulâe"to return to the ever-after and rescue those she loves. One world teeters on the brink of interspecies war, the other on the brink of its very demiseâe"and it's up to Rachel to keep them both from being destroyed.