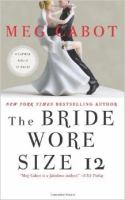 Young fans of Cabots YA "Princess Diaries" series have followed her straight into their twenties, making her "New Adult" Heather Wells series a big hit. Here, Heather is anticipating her wedding to PI Cooper Cartwright when her wedding planner disappears, a pretty first-year student living in the dorm where Heather works turns up dead after an all-night party, and Heathers estranged mother turns up joyfully. With a 100,000-copy first printing.
---
Heather Wells is used to having her cake and eating it too, but this time her cake just might be cooked. Her wedding cake, that is.
With her upcoming nuptials to PI Cooper Cartwright only weeks away, Heather's already stressed. And when a pretty junior turns up dead, Heather's sure things can't get worse--until every student in the dorm where she works is a possible suspect, and Heather's long-lost mother shows up.
Heather has no time for a tearful mother and bride reunion. She has a wedding to pull off and a murder to solve. Instead of wedding bells, she might be hearing wedding bullets, but she's determined to bring the bad guys to justice if it's the last thing she does . . . and this time, it just might be.