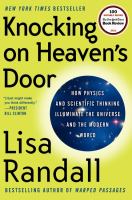 Renowned Harvard physics professor Randall is one of those rare people who can be proclaimed among Time's "100 Most Influential People in the World" while also appearing in Rolling Stone's 40th anniversary issue. Here she doesn't just explain the latest ideas in science but also aims to clarify how scientists decide what to study, what they're deciding to study now, and how they go about doing it. Heady stuff for all your smart readers; books on physics do surprisingly well, as indicated by the 75,000-copy first printing.
---
"Science has a battle for hearts and minds on its hands....How good it feels to have Lisa Randall's unusual blend of top flight science, clarity, and charm on our side."
--Richard Dawkins
"Dazzling ideas....Read this book today to understand the science of tomorrow."
--Steven Pinker
The bestselling author of Warped Passages, one of Time magazine's "100 Most Influential People in the World," and one of Esquire's "75 Most Influential People of the 21st Century," Lisa Randall gives us an exhilarating overview of the latest ideas in physics and offers a rousing defense of the role of science in our lives. Featuring fascinating insights into our scientific future born from the author's provocative conversations with Nate Silver, David Chang, and Scott Derrickson, Knocking on Heaven's Door is eminently readable, one of the most important popular science books of this or any year. It is a necessary volume for all who admire the work of Stephen Hawking, Michio Kaku, Brian Greene, Simon Singh, and Carl Sagan; for anyone curious about the workings and aims of the Large Hadron Collider, the biggest and most expensive machine ever built by mankind; for those who firmly believe in the importance of science and rational thought; and for anyone interested in how the Universe began...and how it might ultimately end.