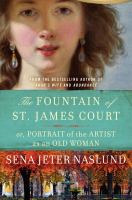 From Ahabs Wife to Abundance, the best-selling, multi-award-winning Naslund is known for creating persuasive female characters. In this novel-within-a-novel, she offers two: French painter Elisabeth Vigee-LeBrun, who barely survived the revolution, and Kathryn Callaghan, who has written a fictional account of Vigee-LeBrun. Kathryn, who is standing meditatively by the fountain of Venus Rising from the Sea as the novel opens, has spent too much time in the past and must reckon with her life in contemporary America. With a 100,000-copy first printing.
---
"Is it a crime to live? To create happiness for yourself through your own work?"
How do writers and painters get their ideas? And what are the hard realities of such seemingly glamorous and romantic lives? In her groundbreaking new novel, New York Times bestselling author Sena Jeter Naslund explores the transformative power of art, history, and love in the lives of creative women.
It's midnight on St. James Court, at the heart of which is a beautiful fountain sculpture of Venus rising from the sea. Kathryn Callaghan has just finished the first draft of her novel about renowned painter Élisabeth Vigée-Le Brun, a survivor of the French Revolution who was hated for her sympathetic portraits of Marie Antoinette. Although the manuscript is complete, its author remains haunted by Élisabeth's experiences, which are revealed in Sena Jeter Naslund's ingenious novel-within-a-novel interleaved with the chronicle of a day in the life of Kathryn Callaghan. Despite being separated by time, place, and culture, Kathryn and Élisabeth possess similar gifts and burdens: uncompromising aesthetic codes, fierce pride in their artistic expression, and unwavering love and sacrifice for their children. And before the next midnight rolls around, Kathryn will have confronted personal danger as frightening as the butchery that Élisabeth faced during the Reign of Terror. Each woman will be called upon and tested; each will, like Venus, rise triumphantly above the expectations of her world.
In this, her compelling and intimate ninth book, Sena Jeter Naslund presents the reader with an eye-opening alternate vision of The Artist: not an angry young man but a woman of age and hard-won experience who has created for herself, against enormous odds, a fulfilling life of thoroughly realized achievement.