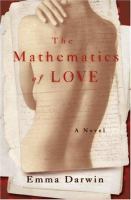 In an English country manor, two unlikely souls, divided by time, will be united by tragedy, memory, and love. Teenaged Anna Ware discovers a bundle of letters written in 1819 by a war veteran, and as she unravels his mysteries, she is creating a heartbreaking secret of her own.
---
The mathematics of love defies arithmetic . . . The Mathematics of Love is an intimate, poignant story of two people whose lives--amazingly, impossibly--become interwoven in a brilliant tapestry of tragedy, memory, and love. Moving from the modern English countryside to the mountains of nineteenth-century Spain, Emma Darwin's extraordinary narrative beautifully evokes the horrors of war, the pain of loss, the heat of passion, and the timeless power of love.
1819. Stephen Fairhurst, a veteran of Waterloo, is weary of war. Wounded in body and spirit from battles both bloody and heartbreaking, he returns to Kersey Hall from a self-imposed exile in Spain. Amid the verdant beauty and quiet stillness of the countryside he yearns for solitude, but instead meets a most unexpected new acquaintance: the unconventional Lucy Durward.
Blessed with an artistic hand, a sharp mind, and an independent spirit, Lucy is a woman unlike any Stephen has ever known. In their newfound correspondence he shields himself from the shadows of the past--and the painful secret he carries.
1976. While her mother spends the summer in Spain with a new lover, sixteen-year-old Anna Ware is packed off to live at Kersey Hall, now a failed girls' school run by her estranged uncle. Hot, bored, desperate for the excitement of London and her girlfriends, Anna looks for a way out, but instead finds a new mentor in Theo.
A charismatic, aging war photographer both worldly and kind, Theo offers an antidote to Anna's loneliness and anger. Yet Theo is not her only solace. Over the course of the summer her curiosity is piqued by a collection of old letters between the former owner of Kersey Hall, Stephen Fairhurst, and a Miss Lucy Durward. As Anna unravels the past letter by letter, she begins to create a heartrending secret of her own--one that will connect her to Stephen in startling and indelible ways.
Hauntingly beautiful and wondrously told, The Mathematics of Love diagrams the mysterious equation that is the human heart. Making flesh and blood the unwavering bond that connects us all, it is a novel that will linger long after the last page is turned.