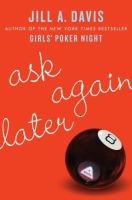 Emily has a tendency to live with one foot out the door. For her, the best thing about a family crisis is the excuse to cut and run. When her mother dramatically announces theyve found a lump, Emily gladly takes a rain check on life to be by her mothers side, leaving behind her career, her boyfriend, and those pesky, unanswerable questions about who she is and what shes doing with her life.
But back in her childhood bedroom, Emily realizes that she hasnt run fast or far enough. One evening, while her mother calls everyone in her Rolodex to brief them on her medical crisis and schedule a farewell martini, Emily opens the door, quite literally, to find her past staring her in the face. How do you forge a relationship with the father who left when you were five years old? As Emily attempts to find balance on the emotional seesaw of her life, with the help of two hopeful suitors and her Park Avenue Princess sister, she takes a no-risk job as a receptionist at her fathers law firm and slowly gets to know the man she once pretended was dead.
From the brainy, breezy writer who "writes like a professional comic" (The Onion) and is "hard to stop reading once you start" (USA Today) comes a laugh-out-loud tale that confirms you can recover from your parents, the bad habit of missed opportunities, and men who romance you with meat. When opportunity knocks, its time to stop running and start living.