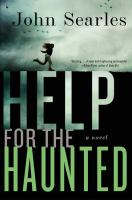 After Sylvie Masons parents leave her in the car as they enter an isolated old church, gunshots sound, and Sylvie is left an orphan in the care of an older sister who might be implicated in their parents death. With a 75,000-copy first printing.
---
It begins with a call one snowy February night. Lying in her bed, young Sylvie Mason overhears her parents on the phone across the hall. This is not the first late-night call they have received, since her mother and father have an uncommon occupation: helping "haunted souls" find peace. And yet something in Sylvie senses that this call is different from the others, especially when they are lured to the old church on the outskirts of town. Once there, her parents disappear, one after the other, behind the church's red door, leaving Sylvie alone in the car. Not long after, she drifts off to sleep, only to wake to the sound of gunfire.
As the story weaves back and forth through the years leading up to that night and the months following, the ever-inquisitive Sylvie searches for answers and uncovers secrets that have haunted her family for years.
Capturing the vivid eeriness of Stephen King's works and the quirky tenderness of John Irving's novels, Help for the Haunted is told in the captivating voice of a young heroine who is determined to discover the truth about what happened on that winter night.