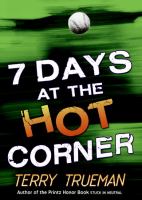 A Michael L. Printz Honor Book author delivers a coming-of-age novel with grit and power. High school baseball jock Scott Latimer learns his best friend is gay. As Scott's team goes to the championships, he must step up to the plate and reexamine his whole life.
---
Varsity baseball player Scott Latimer struggles with his own prejudices and those of others when his best friend reveals that he is gay.
---
In baseball, fielding your position at third base is tricky--that's why third is called "the hot corner." You have to be aware that anything can happen at any time.
This should be the best year of Scott's life: It's his last season of varsity ball, his team is about to go to the city championship, and a pro career is on the line. Instead, everything he always counted on comes crashing down at the same time, and his whole life is like one blazing hot corner--full of deadly line drives and crazy "bad hops."
Scott can't believe the awful stuff coming his way, but it's time to find out whether he has what it takes to play the hot corner--on the baseball diamond and off it.