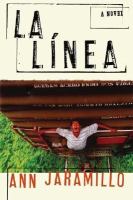 When fifteen-year-old Miguel's time finally comes to leave his poor Mexican village, cross the border illegally, and join his parents in California, his younger sister's determination to join him soon imperils them both.
---
Miguel's life is just beginning. Or so he thinks. Fifteen-year-old Miguel leaves his "rancho" deep in Mexico to migrate to California across "la linea," the border, in a debut novel from Ann Jaramillo of life-changing, cliff-hanging moments.
But Miguel's carefully laid plans change suddenly when his younger sister Elena stows away and follows him. Together, Miguel and Elena endure hardships and danger on their journey of desperation and desire, loyalty and betrayal. An epilogue, set ten years after the events of the story, shows that you can't always count on dreams--even the ones that come true.
Latino Interest.