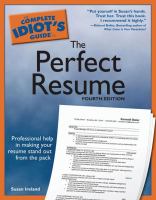 When a Russian hit team catches up with Roman Tobinskiy, political opponent of Moscow and former FSB colleague of Alexander Litvinenko (murdered by polonium poisoning in 2006), it's an easy kill; he's lying helpless in a hospital bed. They realise too late that in an adjacent room is Clare Jardine, ex-MI6 officer, recovering from wounds while saving Harry Tate's life. When Clare goes on the run, Harry is ordered to track her down before the Russians reach her. It's one of his toughest challenges yet. For not only is Clare as adept at covering her tracks as Harry is himself, but the Russians are not the only ones chasing her. Harry is about to come up against an old enemy from his past. And if he is to save Clare's life – as she saved his – he must seek help from a most unlikely source.
---
An updated and revised edition of one of Alpha Books' top career guides helps readers put together an attention-grabbing resume that will help land them their dream jobs. The book includes dozens of sample resume styles, an action plan for a successful job search, and professional advice on creating cover letters, finessing the toughest interview, and writing thank-you and follow-up letters.
More concise step-by-step information for creating a resume for a variety of commonly faced situations, including career change, employment gaps, age discrimination, and layoffs.
An increased emphasis on the combination resume (the chronological format with skill headings within each job title section), which has become one of the most widely accepted formats by employers.
Arms job seekers with a clear understanding of the principles of creating a great resume, allowing them to adapt and apply those principles to their own personal situation, no matter how difficult that situation may be.