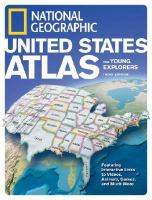 Featuring all-new maps, photographs, graphics and--for the first time ever--access to an interactive Web site, the third edition of this award-winning atlas is an essential reference and invaluable resource for kids from coast to coast. Full color.
---
It's the U.S. atlas every young explorer needs. And now, the Third Edition of the award-winning National Geographic United States Atlas for Young Explorers allows kids to explore both on its beautiful pages and interactively through our specially designed Web site. Readers can link directly to National Geographic's rich archive of multi-media resources--videos, photographs, maps, articles, sounds, games, and more-that will expand their knowledge and perspective about the country as well as its states and regions. All maps are custom-designed for intermediate-grade students by the Society's world-famous cartographers. Locator maps and color-coding throughout make it easy for kids to keep track of where they are and to quickly navigate from region to region and from state to state.

The combination of large, detailed, yet easy-to-read maps, stunning, full-color photo essays, information-packed thematic spreads, and Web site links sets this atlas apart from every other U.S. atlas currently available for the 8-12 age group. The Third Edition of the National Geographic United States Atlas for Young Explorers is an invaluable resource and an essential reference for kids from coast to coast.