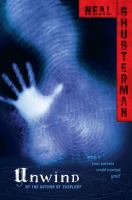 In this futuristic thriller, Neal Shusterman creates a world that blurs the line between life and death and challenges ideas about what it means to be alive.
---
In a future world where those between the ages of thirteen and eighteen can have their lives "unwound" and their body parts harvested for use by others, three teens go to extreme lengths to uphold their beliefs--and, perhaps, save their own lives.
---
In a society where unwanted teens are salvaged for their body parts, three runaways fight the system that would "unwind" them Connor's parents want to be rid of him because he's a troublemaker. Risa has no parents and is being unwound to cut orphanage costs. Lev's unwinding has been planned since his birth, as part of his family's strict religion. Brought together by chance, and kept together by desperation, these three unlikely companions make a harrowing cross-country journey, knowing their lives hang in the balance. If they can survive until their eighteenth birthday, they can't be harmed -- but when every piece of them, from their hands to their hearts, are wanted by a world gone mad, eighteen seems far, far away. In Unwind, Boston Globe/Horn Book Award winner Neal Shusterman challenges readers' ideas about life -- not just where life begins, and where it ends, but what it truly means to be alive.