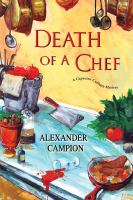 Murder is always on the menu for the ever chic and always capable Commissaire Capucine Le Tellier, highly esteemed member of the Paris Police Judiciaire. . .

Quel horreur When the body of acclaimed Chef Jean-Louis Brault and a shotgun are discovered in an antique Louis Vuitton portemanteau, everyone is convinced its suicide. Distraught at rumors perpetuated by the vituperative food critic, Lucien Folon, that his restaurant La M re Denis might lose its precious third Michelin star, Brault was considered to be tr s d sol by friends and family alike.

But when Capucine is called to the mise-en-sc ne, Capucine smells something fishier than a bouillabaisse gone bad. And when Le Monde suggests that Capucines investigation is a cover up for the lethal consequences of food critics everywhere--a profession in which her husband takes great pride--she will stop at nothing to solve the case.

As evidence mounts, fine food, fraud, and kidnapping are all main ingredients in Capucines search for the truth in this d licieux m lange of cuisine et le myst re.