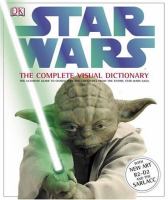 "Star Wars Complete Visual Dictionary" is a complete, comprehensive overview of the Prequel movies (Episodes I-III) and the Trilogy (Episodes IV-VI). This is the definitive photographic guide to the entire Star Wars saga.
---
From characters like Darth Maul and Yoda, to places like Naboo and Dexter's Diner, to creatures like Jabba the Hutt and Ewoks, Star Wars: The Complete Visual Dictionarychronicles every character, weapon, starship, droid, creature, and alien in the Star Wars universe.
The only comprehensive visual guide available — and now with a new, refreshed look — it features more than one thousand stills and digitally rendered pictures, making this the ultimate collector's item for every Star Warsfan.
© 2012 Lucasfilm Ltd. ® & ™ All Rights Reserved. Used Under Authorization.