Summary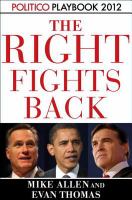 Two of America&'s most perceptive political reporters join forces for an unprecedented behind-the-scenes look at the race for the White House in POLITICO&'sPlaybook 2012, a series of four instant digital books on the 2012 presidential election. The first edition,The Right Fights Back, follows the campaign for the Republican presidential nomination.
 
The battle for the 2012 Republican presidential nomination promises to be one of the most hotly contested and closely fought in recent memory, as establishment Republicans, Tea Party favorites, and dark horse insurgents vie to take on President Obama in the November election. InThe Right Fights Back, Mike Allen, chief White House correspondent for POLITICO, and Evan Thomas, the award-winning journalist and author ofRobert F. KennedyandThe War Lovers, chronicle the dramatic events of this historic campaign as it unfolds.
 
With exclusive real-time reporting from the campaign trail,The Right Fights Backprovides detail, color, and in-depth analysis that take readers beyond the hourly headlines and commentary. From the role of Super PACS and conservative interest groups to the clashes of personality and policy that will define the race to capture the GOP nomination, this is a history-as-it-happens account of the resurgent American right at the crossroads.