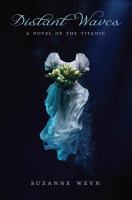 Science, spiritualism, history, and romance intertwine in Suzanne Weyn's newest novel. Four sisters and their mother make their way from a spiritualist town in New York to London, becoming acquainted with journalist W. T. Stead, scientist Nikola Tesla, and industrialist John Jacob Astor. When they all find themselves on the Titanic, one of Tesla's inventions dooms them...and one could save them.
---
Spellbinding author Suzanne Weyn tells the story of four sisters on an ill-fated voyage...

Chased by their pasts and drawn toward a more hopeful future, four sisters are about to embark on the journey of their lives... aboard the Titanic. One is going to have her wedding during the ocean voyage. Another has become involved in a feat of scientific intrigue that has the potential to alter the course of history. All of them feel out of place. And at least one of them will soon find herself out of time.

As she did with her epic love story Reincarnation, Suzanne Weyn weaves fact, fiction, and fate into a novel that teen readers won't be able to put down.