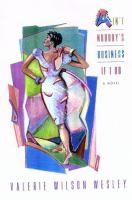 Anybody lucky enough to have experienced the artistry of Valerie Wilson Wesley already knows that her ability to blend wry humor with stark reality is unsurpassed. And now she plies her talents in a new direction in an insightful, poignant story of family ties unraveling and lost loves regained.

Eva is alone with an empty heart in a big, empty house. Hutch fears he is falling in love with the neglected wife of his wealthy, philandering best friend. Charley, Evas law school-bound daughter, forgets her plans for school to become a stand-up comedian. Steven, Hutchs son, harbors a secret that will rock his fathers world. And into the mix strolls Isaiah Lonesome, Charleys ex-boyfriend, a handsome hunk of a twenty-eight-year-old jazz musician who will teach Eva to play some lusty new riffs on loves oldest song. And in the end, everyone learns that when it comes to living life to the fullest, and in the quest for true love, it aint nobodys business how one goes about it.

Valerie Wilson Wesleys Aint Nobodys Business If I Do is a delightful story of an African-American family in transition that is, at once, touching, sad, and funny, and that celebrates love, personal freedom, and the pursuit of happiness with charm, humor, and wisdom.