Summary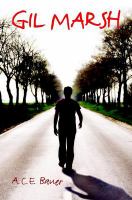 Good looking, athletic, and smart, Gill Marsh is the most popular kid at Uruk High School, even though he is only a junior. When Enko, a new kid from Montreal, shows up, Gil is wary. Yet Enko is easy going and matches Gils athletic prowess without being a threat. Soon, the two become inseparable friends, practicing, studying, and double-dating.

Then suddenly, to everyones shock, Enko succombs to an aggressive cancer.

When Enkos parents take his body and return to Canada, Gil is unable to even say good bye. He is inconsolable. Determined to find Enkos grave, Gil sneaks away and heads north.

Closely based on the ancient story of Gilgamesh, the Sumerian King from 3000 BC, A. C. E. Bauer has carefully woven the classic elements of myth to follow Gils quest and explore the grief and growth of a young man.


From the Hardcover edition.