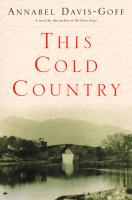 The author of the New York Times Notable Book The Dower House, known for her elegant prose and her keen eye for the nuances of class, now adds the lush, large-screen immediacy of a Merchant-Ivory film to her compelling tale of a woman and a culture forever changed by World War II. This Cold Country is an old fashioned comedy of manners: the story of a middle class English girl who precipitously marries into the closed upper-class world of the Anglo-Irish during the 2nd World War and finds herself burdened by their crumbling legacy, both in property and personalities.
Only a few days after Daisy Creed precipitously marries Patrick Nugent, scion of an Anglo-Irish family, Patrick rejoins his regiment in France. Having never met her in-laws, Daisy sets sail for her new home, Dunmaine, County Waterford. The family's affairs echo its estate: grand and forbidding on the outside, decaying and corrupt within. Patrick's vain, spoiled sister, Corisande, soon flees to her lover, leaving Daisy alone with Patrick's feeble brother, Mickey, and grandmother, Maud, who has taken to her bed. In her determination to save Dunmaine and secure her place as its mistress, Daisy unwittingly becomes an accomplice in a dangerous political plot, as old and as fraught as The Troubles. With grace and wit, Davis-Goff portrays a lost way of life and the war that rendered it obsolete. In the character of Daisy Creed she has created an unforgettable Everywoman of her time--part Elizabeth Bennett, part Scarlett O'Hara.

---
"Daisy Creed, at the onset of the Second World War, is twenty years old, the daughter of a Church of England rector. Her life, instead of following the conventional pattern society has drawn for unmarried, middle-class girls, becomes one of infinite possibility. Daisy, who enlisted in the Women's Land Army the day after war was declared, sees herself "as one of the cards tossed into the air and was fairly sure that wherever she landed she would prefer it to the life she watched her mother lead."" "Courted by two young officers, taken up and then snubbed by the upper-class Nugent family, Daisy's adventures include a house party in the Lake District and a romantic weekend in London where air raids alternate with frantic gaiety and pleasure seeking. In the spirit of the time, Daisy precipitously marries, and finds herself living in the south of Ireland at Dunmaine, the decaying estate of her absent husband's unfathomable family." "Ireland is a neutral country, free of English rule for only eighteen years. With friends who include a charming Fascist charged with treason in England and a womanizing British officer decorated for courage, it becomes increasingly difficult for Daisy to understand exactly where the sympathies of her new family lie. Her elegant and difficult sister-in-law soon flees to her lover, and her reticent brother-in-law and the unseen grandmother who rules the house provide few clues. Before Daisy can grasp the unspoken rules, she becomes an unwitting accessory to a murder and is drawn into a love affair that throws her life into complete disarray."--BOOK JACKET.Title Summary field provided by Blackwell North America, Inc. All Rights Reserved
---
If you are a skilled Java programmer but are concerned about the Java coding interview process, this real-world guide can help you land your next position

Java is a popular and powerful language that is a virtual requirement for businesses making use of IT in their daily operations. For Java programmers, this reality offers job security and a wealth of employment opportunities. But that perfect Java coding job won't be available if you can't ace the interview. If you are a Java programmer concerned about interviewing, "Java Programming Interviews Exposed" is a great resource to prepare for your next opportunity. Author Noel Markham is both an experienced Java developer and interviewer, and has loaded his book with real examples from interviews he has conducted.Review over 150 real-world Java interview questions you are likely to encounterPrepare for personality-based interviews as well as highly technical interviewsExplore related topics, such as middleware frameworks and server technologiesMake use of chapters individually for topic-specific help Use the appendix for tips on Scala and Groovy, two other languages that run on JVMs

Veterans of the IT employment space know that interviewing for a Java programming position isn't as simple as sitting down and answering questions. The technical coding portion of the interview can be akin to a difficult puzzle or an interrogation. With "Java Programming Interviews Exposed," skilled Java coders can prepare themselves for this daunting process and better arm themselves with the knowledge and interviewing skills necessary to succeed.