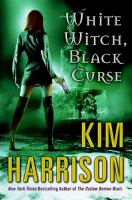 "The world of the Hollows is fast-moving, funny, harrowing, and scary, and—the greatest compliment to a fantasy—absolutely real."
—New York Times bestselling author Diana Gabaldon
Kim Harrison is aNew York Times-bestselling phenomenon, in the superstar pantheon along with Laurel K. Hamilton and Charlaine Harris of Sookie Stackhouse fame. Return to "the Hollows" in White Witch, Black Curse, as tough-as-nails bounty hunter witchRachel Morgan seeks vengeance for the death of her lover among the creatures of the night. Indeed, Charlaine Harris herself has nothing but praise forHarrison's peerless protagonist, promising, "You're going to love this bounty hunter!" White Witch, Black Curse is contemporary dark fantasy at its electrifying best.
---
Some wounds take time to heal . . . and some scars never fade.
Rachel Morgan, kick-ass witch and bounty hunter, has taken her fair share of hits, and has broken lines she swore she would never cross. But when her lover was murdered, it left a deeper wound than Rachel ever imagined, and now she won't rest until his death is solved . . . and avenged. Whatever the cost.
Yet the road to hell is paved with good intentions, and when a new predator moves to the apex of the Inderlander food chain, Rachel's past comes back to haunt her.
Literally.