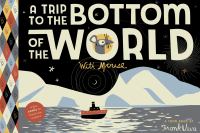 Publishers Weekly
(c) Copyright PWxyz, LLC. All rights reserved

This charming voyage tale is based on Viva's (Along a Long Road) real-life Antarctic trip, which explains the otherwise unbelievable image of swimming in warm water at the bottom of the world. The distinctive color palette of slate blue-gray, black, cream, and burnt orange provides an otherworldly but extremely attractive vision. The simple story, full of imagination, is punctuated by Mouse's lists of things that can't be done on a boat in choppy waters (including draw!) or what to wear in the cold. Readers' creativity will be spurred by the recurring list structure, allowing them to envision their own additions. Although drawn in minimal style (evoking Viva's career as a cover artist, creating single, eye-catching images), with a flat, cut-paper feel to the art, beautiful vistas are conjured, especially of the small boat under an open starry sky. The penguins-four different types-are standouts. Like many children, Mouse spends much of his time wanting to go home, until he leaves, then he wants to go back. Readers will, too, again and again. Ages 4-up. (Sept.) (c) Copyright PWxyz, LLC. All rights reserved.
---
Book list
From Booklist, Copyright © American Library Association. Used with permission.

Viva, illustrator of many New Yorker covers as well as the lovely and poetic picture book Along a Long Road (2011), joins the TOON Books stable with this tale of an impatient mouse's visit to the Antarctic. The little fellow is immediately homesick despite a human crewmate's attempts to interest him in penguins, whales, and swimming. Viva has a knack for segueing irresistibly from one page to the next, and his various illustrated lists boots, mittens, a hat, and a scarf when they're dressing; jump, bump, play, and dive while whale watching provide useful words for neophyte readers. His illustrations define characters with a few simple but personality-packed lines and create environments out of swooping, nearly abstract shapes that, though easily recognizable as narrative elements, retain the comfort of a preschooler's geometric-pattern books. Young children will also identify with the protagonist as he pines first for the destination and then for home, never quite satisfied with what's on hand, a problem that Viva's readers will not share.--Karp, Jesse Copyright 2010 Booklist
---
School Library Journal
(c) Copyright Library Journals LLC, a wholly owned subsidiary of Media Source, Inc. No redistribution permitted.

PreS-Gr 2-From the endpapers, Mouse asks the timeless question of many young travelers, "Are we there yet?" Inspired by Viva's experiences traveling to Antarctica aboard a Russian research ship, the oblong picture book offers basic facts about the region (it is cold and penguins live there, for instance), while Mouse tries to figure out when it will finally be time to go home. Viva's illustrations employ only primary colors, white, black, and gray, but in the best way. Every bit of space is used to tell the story, which is perfectly suited for storytimes, reading aloud, or even reader's theater. The text is simple enough for fairly new readers to tackle, and interesting. Picture clues are used to help with some of the vocabulary words. This book begs to be shared again and again. Pair it with one of Mo Willems's "Elephant & Piggie" books (Hyperion) and bring on the giggles. Outstanding.-Amy Commers, South St. Paul Public Library, MN (c) Copyright 2013. Library Journals LLC, a wholly owned subsidiary of Media Source, Inc. No redistribution permitted.