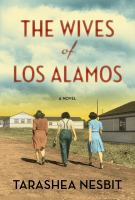 Library Journal
(c) Copyright 2010. Library Journals LLC, a wholly owned subsidiary of Media Source, Inc. No redistribution permitted.

In this historical novel, the wives who accompany their husbands to Los Alamos, NM, in 1943 know only that the scientists are working on a very important war project. Nesbit uses a collective "we" to narrate her story, allowing her to explore contradictory points of view among the women. Novelist Julie Otsuka used this literary device with dramatic effect in The Buddha in the Attic, and readers may find echoes of her distinctive style here. The Los Alamos wives are at first mainly concerned with adapting to this strange and claustrophobic little community in the high desert while they long for their old lives. In August 1945, when the women finally find out what the new weapon is and what it has done, they cheer or they shudder. They feel proud, ashamed, confused, or just relieved that the war is finally over and they can go home. VERDICT This well-researched and fast-paced novel gives a panoramic view of the lives of ordinary women whose husbands worked on the atomic bomb during World War II. Recommended both for its important subject matter and for the author's vivid storytelling.-Leslie Patterson, Rehoboth, MA (c) Copyright 2013. Library Journals LLC, a wholly owned subsidiary of Media Source, Inc. No redistribution permitted.
---
Publishers Weekly
(c) Copyright PWxyz, LLC. All rights reserved

First-time novelist Nesbit chronicles the lives of a disparate group of women who forge a new community together after relocating to the desert of New Mexico during World War II. The collective "we" that serves as the book's protagonist only knows that the women's physicist husbands are working day and night on a secret government project. This clandestineness permeates their world as their letters are censored, visits home are limited, and close family and friends are forbidden to know their exact whereabouts. In the meantime, the wives carry on (or attempt to carry on) with their normal everyday lives-gossiping about one another, setting standards for practical fashion among the group, and trying to get around the bureaucracy that has them feeding their families with spoiled provisions. On occasion, the mundane turns ominous, as explosions are heard in the distance. Nesbit's novel is divided into concise sections that report on different aspects of life in Los Alamos. The author's writing-by turns touching, confiding, and matter-of-fact-perfectly captures the commonalities of the hive mind while also emphasizing the little things that make each wife dissimilar from the pack. This effect intensifies once the nature of the Los Alamos project is revealed and the men and their families grapple with the burden of their new creation. Engrossing, dense, and believable. (Feb.) (c) Copyright PWxyz, LLC. All rights reserved.