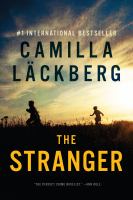 Publishers Weekly
(c) Copyright PWxyz, LLC. All rights reserved

In Swedish author Lackberg's engaging, if subpar, fourth crime thriller set in Fjallbacka (after 2012's The Stonecutter), Det. Patrik Hedstrom investigates a local woman's death in what appears to be a D.W.I. accident. Some things don't add up, like the off-the-charts alcohol level for a victim, who everyone says never drank. Meanwhile, the battered corpse of one of the cast members of a reality TV show filming in Fjallbacka surfaces inside a garbage truck. Lackberg skillfully handles the ensuing probe-which will stretch over half of Sweden and into crimes dating back decades, including the abduction of a young brother and sister from Fjallbacka-as well as the domestic dramas dominating the life of writer and new mom Erica Falck, who is soon to wed Patrik. Less successful are the florid chapter-opening flashbacks and the puzzle's farfetched solution. Hints of the next installment's plot promise a return to form. Agent: Joakim Hansson, Nordin Literary Agency (Sweden). (May) (c) Copyright PWxyz, LLC. All rights reserved.
---
Book list
From Booklist, Copyright © American Library Association. Used with permission.

Compelling characters compensate for a lackluster plot in Lackberg's latest thriller set in the remote Swedish village of Fjallbacka. This time around, veteran detective Patrik Hedstrom investigates a fatal crash involving a local shop owner. Hedstrom fears foul play when he learns that the victim, a teetotaler, had an astonishingly high blood-alcohol level.Turns out, a few unsolved cases over the years had similar circumstances, and Hedstrom considers the possibility that they are all connected. Adding to the detective's woes is an obnoxious reality show (is there any other kind?) that has descended upon Fjallbacka. Ratings climb through the roof when one of the surgically enhanced contestants, nicknamed Barbie, is killed. Could there be a murderer among the cast or crew? Meanwhile, Hedstrom welcomes a new member to the police force, smart and comely Hanna Kruse, whose psychiatrist husband has the unsavory assignment of counseling the reality-show recruits. Fans of Lackberg (The Stonecutter, 2012), who ranks among Sweden's most popular authors, should enjoy the eclectic collection of personalities in this latest offering.--Block, Allison Copyright 2010 Booklist
---
Library Journal
(c) Copyright Library Journals LLC, a wholly owned subsidiary of Media Source, Inc. No redistribution permitted.

Sweden's best-selling author (The Stonecutter) has produced her best book to date in this fourth series entry. Det. Patrik Hedstrom and his fiancee, writer Erica Falck, are only six weeks away from their nuptials and have yet to start making formal plans. However, Hedstrom's participation in wedding preparations is derailed by his intense investigation into a suspicious suicide and the murder of a celebrity contestant from a popular reality show. Initially it appears the two incidents are unrelated, but further examination reveals plenty of surprising coincidences and twists that lead to an ever-broadening circle of complicity. VERDICT Lackberg presents a change from the usual Nordic mystery in her protagonist Patrik Hedstrom, who's not the typical deeply flawed, moody, and despairing character many detectives are in this genre. Highly recommended for Lackberg's many devotees as well as fans of cozy police procedurals.-Deb West, Gannon Univ. Lib., Erie, PA (c) Copyright 2013. Library Journals LLC, a wholly owned subsidiary of Media Source, Inc. No redistribution permitted.