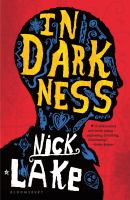 Publishers Weekly
(c) Copyright PWxyz, LLC. All rights reserved

Shorty, 15, is trapped in the rubble of a hospital following the 2010 earthquake that left Haiti in ruins. As time wears on without rescue, he relives the journey that brought him to the hospital with a bullet wound, recounting his life running drugs and gunning down enemies for one of Site Soley's most notorious gangs. In a startling but successful feat of literary imagination, Lake (the Blood Ninja series) pairs Shorty's story with that of Toussaint l'Ouverture, the 18th-century slave who led the revolt that forced out the island's French colonizers. The narrative is as disturbing (people are hacked to death, an encephalitic baby is found alive in a trash pile) as it is challenging; the book moves back and forth in time from Shorty's fictional first-person account, shot through with street slang and Creole, to Toussaint's story, told in third-person. But the portrait it reveals of a country relegated throughout history to brutality and neglect is powerful and moving, as readers come to understand that Shorty is held captive by more than just the ceiling that fell on him. Ages 14-up. (Jan.) (c) Copyright PWxyz, LLC. All rights reserved.
---
Book list
From Booklist, Copyright © American Library Association. Used with permission.

Shorty, 15, is in a Haitian hospital with a bullet in his arm when the walls fall down during an earthquake. As he waits for help, drinking blood to try to quench his thirst, he remembers how he got to the hospital and the haunting gang violence he witnessed in the slums: his beloved twin sister was taken; his father was chopped to pieces. His mother loved freedom-fighter Aristide, but his father did not. Shorty's present-day narrative switches back and forth with an historical plotline set in the eighteenth century, when Touissant l'Ouverture, a former slave, led Haiti in the fight for freedom, calling for justice, not vengeance, in the struggle to emancipate the slaves. The constantly shifting narratives, large cast of characters, and cultural detail may overwhelm some readers, and the unspeakable brutality is not for the fainthearted. But older readers, especially those who have seen the devastating footage of Haiti's recent earthquake, will want to read about the grim, contemporary drama and the inspiring history.--Rochman, Hazel Copyright 2010 Booklist
---
School Library Journal
(c) Copyright Library Journals LLC, a wholly owned subsidiary of Media Source, Inc. No redistribution permitted.

Gr 9 Up-Trapped in the rubble of Haiti's massive 2010 earthquake, teenage Shorty desperately waits for rescue. While in darkness, events of his traumatic, violent life replay in his head. He is haunted by his father's brutal murder, his twin sister's disappearance, and the armed gang activity that has been his means of survival in Site Soley (Cite Soleil), a very real and dangerous slum. As he faces death and struggles to understand the external forces that have shaped him, Shorty gradually feels the uplifting spiritual presence of revered slave liberator Toussaint L'Ouverture and draws strength and hope from the man's extraordinary life, determination, and idealism. The pervasive Haitian voodoo belief in spirit transfer empowers Shorty and connects him with Touissant across time. In alternating chapters of "Now" and "Then," Shorty's and Toussaint's stories unfold. The relentless oppression, poverty, violence, and instability of the country is vividly conveyed through Shorty's stark, graphic narrative. Toussaint's story provides historical background for the socioeconomic and political conflicts that continue today. As the author notes, he portrays the essential spirit and history of Touissant with some omissions and simplifications. For example, Touissant learned to read as a boy, and not late in life, but this factual inaccuracy does not diminish the account of his charisma and significance. The entangled actions of gangs and government, the complicated relationship between Haitians and foreign-aid organizations, and the rich mix of Creole and French patois provide insight and authenticity. A striking cast of characters, compelling tension as Shorty confronts his own death, and the reality and immediacy of Haiti's precarious existence will captivate secondary readers.-Gerry Larson, formerly at Durham School of the Arts, NC (c) Copyright 2012. Library Journals LLC, a wholly owned subsidiary of Media Source, Inc. No redistribution permitted.