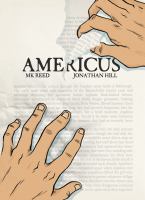 School Library Journal
(c) Copyright Library Journals LLC, a wholly owned subsidiary of Media Source, Inc. No redistribution permitted.

Gr 8 Up-In small-town Americus, Neil Barton leaves middle school and enters the trials of high school. A quiet, bookish boy who has never fit in, he misses his friend Danny and finds solace in the fantasy series "Ravenchilde." Neil finds not only escape, but also parallels in his own life as he reads of the heroine Apathea's adventures. These fantasies, which appear to be coincidentally interwoven into his daily life, give him the courage to face personal obstacles. Unfortunately, his treasured series has been challenged by a radical group of community members, led by Danny's mother. Meanwhile, Neil begins working as a page at his local library. With the support of the librarian, he takes a public stand in favor of the series and speaks before the governing board, offering an impassioned plea for inclusion of the "Ravenchilde" books on the library's shelves: "after I read them, I feel like the impossible becomes possible." The heart of this tale is that stories have the power to illuminate lives. Reciprocally, stories are enriched by the reader's experiences. Although this intricate relationship between a story and a life is suggested, it is overshadowed by the book's very prominent message about the importance of including controversial titles in library collections. Simple black-line drawings on a stark white background introduce readers to the town of Americus. Appropriately, the artist portrays the fantasy world of Ravenchilde in multiple shades of gray, eloquently reinforcing the book's overarching theme.-Barbara M. Moon, Suffolk Cooperative Library System, Bellport, NY (c) Copyright 2011. Library Journals LLC, a wholly owned subsidiary of Media Source, Inc. No redistribution permitted.
---
Book list
From Booklist, Copyright © American Library Association. Used with permission.

Shy eighth-grader and cynic Neil Barton would rather bury his head in his favorite fantasy series, The Chronicles of Apathea Ravenchilde, than try to make friends or make waves in Americus, the small town in which he lives. Right before Neil is supposed to start high school, however, his best friend and fellow bookworm, Daniel, is suddenly sent away to military school and Daniel's mom tries to get the Apathea Ravenchilde series banned from the local library. In the aftermath, Neil starts to find the strength to defend himself against his bullies as well as defend his favorite books against those who would remove them. This clever mix of fantasy and realistic fiction, thoughtful pacing, authentic dialogue, and expressive art perfectly captures the angst of a nerdy teen who is at first ostracized but then finds his niche as he finds his voice. Fans of J. K. Rowling, Cornelia Funke, libraries, intellectual freedom, and Mike Carey's Unwritten series are sure to get a kick out of this title.--Mack, Candice Copyright 2010 Booklist
---
Publishers Weekly
(c) Copyright PWxyz, LLC. All rights reserved

In this charming tale, Reed and Hill offer a lovely valentine to readers and, especially, to librarians. Neil Barton is an outcast about to enter high school in the conservative small town of Americus. His life is made bearable by books-especially the fantasy series the Chronicles of Apathea Ravenchilde, the Huntress Witch-and the young adult librarian, Charlotte, who gives him a job and someone to talk to. Even those pleasures are threatened when some vocal members of the community begin a campaign to ban the Ravenchilde series, arguing they promote witchcraft and other illicit behavior. Soon all of Americus is involved in the battle, lining up on one side or the other, with Charlotte leading the charge for intellectual freedom. As Neil develops confidence through the fight, he also finds a circle of friends. Woven throughout are excerpts from the Ravenchilde story, echoing the theme of the struggle in Americus. Hill's black and white illustrations, full of clean, bold lines, fill the tale with a sense of drama and action, even when the characters are reading silently. Americus is ultimately a reminder of the small miracles a good book can conjure up, in individual lives and across communities. (Aug.) (c) Copyright PWxyz, LLC. All rights reserved.