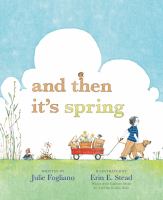 Publishers Weekly
(c) Copyright PWxyz, LLC. All rights reserved

Readers of Shaun Tan's The Red Tree will recognize the glum-to-radiant trajectory of Fogliano's soft-spoken debut, subtly illustrated by Caldecott Medalist Stead (A Sick Day for Amos McGee). Unfolding as a single sentence that carries readers from late winter to spring (almost every page opens with an "and," pushing things along), the story focuses on a boy in blank-eyed glasses, who slouches in barren farmland with a dog, a turtle, and other assorted animals and birds. "First you have brown,/ all around you have brown." The boy plants seeds in the packed earth and waits for the plants to grow. Worry and waiting are recurring themes: did birds eat the seeds? what about that trio of bears, seen happily ignoring the boy's "please do not stomp here" sign? Pale blue sky and tawny drabs flood Stead's block-print-and-pencil images, which yield not a sprout until the closing spread, "and now you have green,/ all around you have green." In an understated and intimate partnership, Fogliano and Stead conjure late winter doldrums and the relief of spring's arrival, well worth the wait. Ages 4-7. Illustrator's agent: Emily Van Beek, Folio Literary Management. (Feb.) (c) Copyright PWxyz, LLC. All rights reserved.
---
Book list
From Booklist, Copyright © American Library Association. Used with permission.

*Starred Review* A first-time author and the Caldecott Award-winning illustrator of A Sick Day for Amos McGee (2011) team up in this beautiful ode to a patient gardener. After the winter, you have brown, all around you have brown, but small hints of spring, like red robins and rain, hold promise. A young boy, joined by his dog companion, plants seeds, each labeled with a picture of carrots or sunflowers or peas. But as much as they wait, hope, and examine the dirt with a magnifying glass, there's no green to be found. Fogliano's simple, tender text has a solemn tone, which perfectly reflects the anticipatory state of the boy and his animal friends. The woodblock and pencil illustrations give life to animals so expressive and endearing it hurts, and the layout a mixture of full-bleed spreads and white-bordered vignettes paces the story well. A two-spread fantasy in the middle of the story in which the boy imagines birds pecking at the seeds or bears stomping on them is smile-inducing, particularly a scene of a befuddled bear with a planter on his head. But what's most fun to notice throughout are the small, subtle details on each page. It's not easy to wait . . . and wait . . . but children, like the boy, may realize that patience often yields big rewards. HIGH-DEMAND BACKSTORY: Fans of A Sick Day for Amos McGee and award-watchers, in general will be eagerly anticipating this, Stead's first children's book since winning the 2011 Caldecott Medal.--Kelley, Ann Copyright 2010 Booklist
---
School Library Journal
(c) Copyright Library Journals LLC, a wholly owned subsidiary of Media Source, Inc. No redistribution permitted.

PreS-Gr 2-The lowercase letters in the title and the theme immediately bring to mind "in just spring" by e. e. cummings. That association continues while experiencing the book's economy of words and construction as a single, lyrical rumination (one initial capital letter; one concluding period). If that earlier poem celebrates the fullness of the season, this one re-creates the moment before--the faith-hope-doubt-worry stage that a gardener experiences after planting: "First you have brown,/all around you have brown.." A bundled and bespectacled boy, his dog, a rabbit, and a turtle, all sporting red knit hats, survey the barren soil, bare trees, and dried stalks. Stead's warm, finely textured scenes, printed from wood blocks and enhanced with pencil, are imbued with realism and quiet humor. The second-person narrative and immediately recognizable emotions pull readers close, as do the delicate details and nuanced expressions that grace the interplay between the characters and their subtly changing surroundings. Fogliano takes seriously the concerned flights of fancy a child conjures while enduring the interminable progress of a seed: ".maybe it was the bears./because bears can't read signs/that say things like/ 'please do not stomp here-/there are seeds/and they are trying..'" Children will intuitively relate to both the agony of anticipation and the effort of growing. This seemingly real-time experience of getting to green is a droll, wistful ode to the stamina behind wanting, will, and perseverance.-Wendy Lukehart, Washington DC Public Library (c) Copyright 2012. Library Journals LLC, a wholly owned subsidiary of Media Source, Inc. No redistribution permitted.