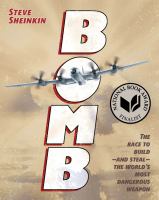 Publishers Weekly
(c) Copyright PWxyz, LLC. All rights reserved

In his highly readable storytelling style, Sheinkin (The Notorious Benedict Arnold) weaves together tales of scientific and technological discovery, back-alley espionage, and wartime sabotage in a riveting account of the race to build the first atomic weapon. The famous (Robert Oppenheimer) and infamous (spy Harry Gold) headline an enormous cast of characters, which also includes Norwegian resistance fighter Knut Haukelid, whose secret wartime missions prevented Hitler from acquiring an atom bomb. B&w portraits of key players appear in photo- montages that begin each of the book's four sections. Sheinkin pulls from numerous sources to supply every chapter with quotations that swiftly move the narrative forward. Suspenseful play-by-play moments will captivate, from the nuclear chain reaction test at the University of Chicago to the preparations for and dropping of the first bomb over Hiroshima. In a "genie out of the bottle" epilogue, details of the Cold War's escalating arms race and present-day weapons counts will give readers pause, especially Sheinkin's final thoughts: "It's a story with no end in sight. And, like it or not, you're in it." A must-read for students of history and science. Ages 10-up. (Sept.) ? (c) Copyright PWxyz, LLC. All rights reserved.
---
Book list
From Booklist, Copyright © American Library Association. Used with permission.

Using some of the same narrative techniques he used in the YALSA Award for Excellence in Nonfiction-winning The Notorious Benedict Arnold (2010), Sheinkin shapes the story of the Manhattan Project into a dense, complicated thriller that intercuts the action with the deftness of a Hollywood blockbuster. There are more characters than readers will be able to handle, but they'll follow the three main threads. The first is a tale of spy versus spy, as Soviet informants infiltrate America's Los Alamos laboratory. The second tracks the heroism of Knut Haukelid as he parachutes into Norway to destroy Germany's heavy water plant. Most amazing is Robert Oppenheimer's assemblage of the greatest scientific minds in the U.S. (aka the world's largest collection of crackpots ), who under great duress design the most lethal weapon in history. Sheinkin's prose understandably favors plot machinations over character, and positioning photos in the back matter feels anticlimactic. Nonetheless, the painstakingly sourced narrative crackles and drives home the strange mix of pride and horror felt by the scientists who had just won the war but lost something of equal worth.--Kraus, Daniel Copyright 2010 Booklist
---
School Library Journal
(c) Copyright 2010. Library Journals LLC, a wholly owned subsidiary of Media Source, Inc. No redistribution permitted.

Gr 5 Up-"Harry Gold was right: This is a big story." So begins this depiction of the "creation-and theft-of the deadliest weapon ever invented." As he did in The Notorious Benedict Arnold (Roaring Brook, 2010), Sheinkin has again brought his superior talent for storytelling to bear in what is truly a gripping account of discovery, espionage, and revolutionary changes in both physics and the modern world. This fascinating tale, packed with a wide cast of characters, focuses mainly on three individuals: spy for the Soviets Harry Gold, leader of the Manhattan Project J. Robert Oppenheimer, and Knut Haukelid, who sabotaged German bomb efforts while working for the Norwegian resistance. Sheinkin skillfully combines lucid, conversational snapshots of the science behind the atomic bomb with a fast-paced narrative of the remarkable people who made it possible and attempted to steal it. Handsomely designed and loaded with archival photos and primary-source documents, the accessible volume lays out how the bomb was envisioned and brought to fruition. While the historical information and hard facts presented here will likely be new to the intended audience, they in no way overwhelm readers or detract from the thoroughly researched, well-documented account. It reads like an international spy thriller, and that's the beauty of it.-Brian Odom, Pelham Public Library, AL (c) Copyright 2012. Library Journals LLC, a wholly owned subsidiary of Media Source, Inc. No redistribution permitted.