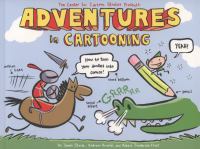 Book list
From Booklist, Copyright © American Library Association. Used with permission.

*Starred Review* Not quite a how-to book, as the cover might suggest, this is rather a stupendous new high for children's graphic novels, spearheaded by comics maestro Sturm (Satchel Paige: Striking Out Jim Crow, 2007). Ostensibly, this is the adventure of an eager knight, a sweet-toothed horse, and a magic elf hunting down a gum-chewing dragon, and those reading for the adventure itself will not be disappointed, filled as it is with humor, action, and a great girl-empowering twist. But along the way, lessons in the language of sequential art are woven seamlessly into the narrative, explaining the basics of how elements such as panels and word balloons work, while concluding bonus features offer specifics on terminology (like gutters and stems) and common symbols (like speed lines). Newcomers Andrew Arnold and Alexis Frederick-Frost, using varying page compositions to keep the sizable volume visually captivating, have constructed a tale that works just as well as a read-aloud for the very young as it does a lesson for everyone from fans of the form to the wholly uninitiated. As an examination of the medium, it's a supremely worthy spiritual legacy to Scott McCloud's seminal Understanding Comics (1993). As a straight-up graphic adventure, it may be the best of the year.--Karp, Jesse Copyright 2009 Booklist
---
Publishers Weekly
(c) Copyright PWxyz, LLC. All rights reserved

Created by the Center for Cartoon Studies' director and two of his former students, this how-to-make-comics book for young readers takes a couple of unusual tacks. For one thing, it skips the usual rudiments of how to draw in favor of explaining the formal characteristics of comics: panels, balloons, lettering and so on. For another, it doubles as a story-about a knight on a quest for a bubblegum-chewing dragon, and the magic elf who teaches the knight all about the joy of cartooning. It's a cute premise, and the art's simple, bold brushstrokes and flat colors are zippy and fun. Sturm and company even sneak in a few comics in-jokes (when several characters fall into water, the elf exclaims "I guess this would be called a SPLASH panel!"). Unfortunately, the plot and the tutorial material repeatedly stumble over each other: the goofy twists in the story occasionally have a bit of instruction shoehorned in, but more often don't serve any educational purpose-or simply seem like the result of stream-of-consciousness jam cartooning. And kids looking for cartooning guidance may be frustrated to find that the book takes its readers' ability to draw expressively for granted. (Apr.) (c) Copyright PWxyz, LLC. All rights reserved
---
School Library Journal
(c) Copyright Library Journals LLC, a wholly owned subsidiary of Media Source, Inc. No redistribution permitted.

Gr 2-6-The young princess, thought to be ensconced in a tower, is missing. A "BRAVE and EAGER knight" and his less-than-fearless horse Edward learn that she has been abducted by a dragon and remains captive on Dragon Island. Assisted by the Magic Cartooning Elf, the knight goes in search of her. In this story within a story, the princess learns how to create her own cartoon. Basic principles of creating comics are taught by context, inference, and direct instruction. The humor, action, adventure, and charming characters hold readers' attention and draw them into a fantasy world of a candy-consuming dragon and knights who have been turned into vegetables. Readers learn about the uses of panels, the importance of words, and placement of thought balloons. Each tutorial panel contains clever and inventive touches that illustrate the capabilities of the format. The progression of the pink gum bubble on the first four pages is a classic. At the conclusion of this delightful tale, cartooning basics such as panels, gutters, tiers, word balloons, depiction of emotion, and movement are explained in an organized and straightforward fashion. This is a volume for kids who love comics, who enjoy an adventure filled with action and humor, are natural-born artists, or who aspire to become comic-book creators. A surefire hit.-Barbara M. Moon, Suffolk Cooperative Library System, Bellport, NY Copyright 2009 Reed Business Information.