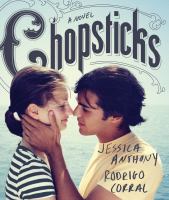 Publishers Weekly
(c) Copyright PWxyz, LLC. All rights reserved

Prominent book designer Corral and adult author Anthony (The Convalescent) chronicle the descent of a teenage piano prodigy, telling her story completely through photographs, IM conversations, news clippings, and artwork. Seventeen-year-old Glory Fleming has been playing piano since age seven, but something happened to her mother sometime after Glory's first recital (Glory and her father's "Merry Christmas 2000" holiday card, seen in a scrapbook, offers thanks "for your support during this difficult year"). Years later, Glory's star is on the rise-ads and brochures show her playing major venues worldwide-but there are also signs that she's cracking under the pressure, including her growing obsession with the waltz "Chopsticks." When an Argentinean boy, Frank Mendoza, moves in next door, a passionate romance ignites. That's how it looks, anyway; small visual details slowly allow another narrative to develop. Unreliable narrators are a staple of literature, yet seeing deceits and red herrings laid bare in photographs and documents, rather than reading about them, makes the book's punches hit hard. An electronic version of the book, with audio and video, will be available simultaneously. Ages 14-up. Agent: Sterling Lord Literistic. (Feb.) (c) Copyright PWxyz, LLC. All rights reserved.
---
School Library Journal
(c) Copyright Library Journals LLC, a wholly owned subsidiary of Media Source, Inc. No redistribution permitted.

Gr 9 Up-Told almost entirely through images, this intriguing mystery reveals the events leading up to the disappearance of Glory, a teenage piano prodigy who goes missing after her struggle with mental illness, which causes her to play the children's waltz "Chopsticks" obsessively. Photographs, ephemera, and instant-message screenshots weave together the details of a forbidden romance with Francisco, the boy next door, and a stunningly executed twist ending leads readers to question what they believe to be true. Artfully faded and discolored images are atmospheric, and repeated motifs of sea creatures, dandelions, and wine bottles pique readers' curiosity. Reluctant readers who prefer images over text will be drawn to this title, though it's not necessarily a quick read. The story requires a sophisticated visual literacy, and each carefully crafted image deserves to be lingered over as part of a fascinating puzzle. An example of the emerging trend of transmedia storytelling, this book will also be available in a "fully interactive electronic version." The inclusion of links to online media requires Internet access and a willingness to type cumbersome URLs, but the content of the links can be gleaned from context, and, ultimately, the print version stands strongly on its own. Spellbinding and inventive, this title will attract teens and compel them to reread and revisit each clue to the hauntingly ambiguous ending.-Allison Tran, Mission Viejo Library, CA (c) Copyright 2012. Library Journals LLC, a wholly owned subsidiary of Media Source, Inc. No redistribution permitted.
---
Book list
From Booklist, Copyright © American Library Association. Used with permission.

*Starred Review* With a narrative that unfolds in a procession of photographs, sketches, scrap paper, wine labels, mix-CD playlists, IM sessions, TV stills, letters sent home from school, and other bits of visual imagery overlaid by short bursts of text, this is a book that plays with the boundaries between novel, graphic novel, scrapbook story, and multiplatform blitz (paid apps, YouTube videos, and an interactive, electronic version of the book are also in the offing). But this high-concept book's ambition isn't limited to its visual narrative mode and transmedia accessorizing, as the story itself moves from a teen love affair (and with condom wrappers, nude sketches, and more implied sexuality, it is definitely an affair) into something much deeper and far trickier. Piano prodigy Glory Fleming meets an Argentinian teen, Francisco Mendoza, and the two fall into a mutual obsession. Glory's overbearing father takes her on a European tour to showcase her celebrated talent of seamlessly blending classical compositions with modern rock, often on the fly. But the simple, dissonant chords of Chopsticks start to intrude upon and then dominate her performances, hinting at both her longing for Francisco and a teetering mental stability. A huge aha! moment (that we wouldn't dream of spoiling) turns the whole thing on its head and makes successive reads an entirely different story. It's daring on all fronts and depending upon one's tolerance for ambiguity successful on most of them.--Chipman, Ian Copyright 2010 Booklist