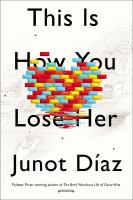 Publishers Weekly
(c) Copyright PWxyz, LLC. All rights reserved

Decisively back in the form that permanently etched his name onto a list of unforgettable writers, Diaz (The Brief Wondrous Life of Oscar Wao) brings life to the short story with a voice that demands attention. Often caught between hopeless romanticism and flippant machismo, Diaz's characters are as vulnerable and maddening as they are endearing and sexy. Among other familiar voices in this collection, Yunior reappears, older but not necessarily wiser, particularly as his once invincible brother Rafa struggles with cancer and everything else it means to be sick, poor, and uninsured. But as the title reveals, the beautiful, defiant, and impossible ladies that claw away at Yunior's soul drive this book. As before, Diaz's searing, sometimes hilarious, and always disarming language holds everything together with just enough of a sense that it all could fall to pieces in the process-if it hasn't already. Drown inspired an entire generation of imitators and with this collection, readers will remember why everyone wants to write like Diaz, bring him home, or both. Raw and honest, these stories pulsate with raspy ghetto hip-hop and the subtler yet more vital echo of the human heart. Agent: Nicole Aragi. (Sept.) (c) Copyright PWxyz, LLC. All rights reserved.
---
Book list
From Booklist, Copyright © American Library Association. Used with permission.

*Starred Review* Diaz continues to keep company with his alter ego, Yunior, a Dominican turned New Jerseyan, in his second short story collection. Drown (1996), his first, introduced Yunior and established Diaz as a writer of promise. His first novel, The Brief Wondrous Life of Oscar Wao (2007), won the Pulitzer Prize and galvanized a world of new readers. Diaz's standout fiction remains pinpoint, sinuous, gutsy, and imaginative. Yunior kicks things off by stating, I'm not a bad guy. The women in his life would caustically disagree. We see Yunior as a boy new to America and his long-absent father's temper, a teenager and college student forever infatuated and forever cheating, and a lonely adult confronted by aggressive racism. Each taut tale of unrequited and betrayed love and family crises is electric with passionate observations and off-the-charts emotional and social intelligence. Diaz's involving, diverse characters include Yunior's combative brother Rafa, Magda the coldhearted, Nilda the young man-magnet, and a sexy older woman. Fast paced, unflinching, complexly funny, street-talking tough, perfectly made, and deeply sensitive, Diaz's gripping stories unveil lives shadowed by prejudice and poverty and bereft of reliable love and trust. These are precarious, unappreciated, precious lives in which intimacy is a lost art, masculinity a parody, and kindness, reason, and hope struggle to survive like seedlings in a war zone. HIGH-DEMAND BACKSTORY: Diaz, as compelling in person as on the page, will connect with his large and loyal readership via a national author tour, extensive media interviews, and a social media campaign.--Seaman, Donna Copyright 2010 Booklist
---
Library Journal
(c) Copyright 2010. Library Journals LLC, a wholly owned subsidiary of Media Source, Inc. No redistribution permitted.

Diaz (The Brief Wondrous Life of Oscar Wao) returns to short fiction in his latest book, the first since he won the Pulitzer in 2007, and his second collection of stories after 1996's Drown. The stories hinge on Yunior de las Casas, Diaz's Nick Adams: a Dominican-born, Jersey-raised writer and-as is especially on display here-chronic womanizer. Diaz tells of love won and lost with his signature verve; the book pulses with Spanish, sf, and the music and apocalyptic TV shows of the late 1980s. Through the lens of the women that Yunior, his older brother Rafa (who dies of cancer while Yunior is in high school), and their mostly absent father love, leave, and are left by, Diaz maps out a painful, aching geography of desire. The final story, "The Cheater's Guide to Love," which will be of particular interest to fans of Oscar Wao, further explores Yunior's (who was the novel's primary narrator) relationship with Lola, Oscar's sister. -VERDICT Diaz's third book is as stunning as its predecessors. These stories are hard and sad, but in Diaz's hands they also crackle. [See Prepub Alert, 3/12/12.]-Molly McArdle, Library Journal (c) Copyright 2012. Library Journals LLC, a wholly owned subsidiary of Media Source, Inc. No redistribution permitted.