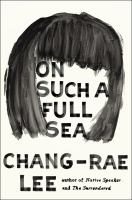 Library Journal
(c) Copyright Library Journals LLC, a wholly owned subsidiary of Media Source, Inc. No redistribution permitted.

Once revealed in context, this book's title alone is an astonishing feat of encapsulated genius from the inimitable Lee. Control, individuality, nature, perfection, reality, society-all that and more fill this dystopic treatise about a not-so-futuristic, ruined America. At the beginning, 16-year-old Fan simply walks out of her contained labor colony in search of her vanished lover; her epic quest takes her through the renegade "counties" and into a privileged "Charter" community and beyond. "New Chinese" descendants trade gated protection by providing halcyon Charter cities with their necessities; beyond the walls is a lawless free-for-all. Lee's use of a never-named "we" as narrator proves to be a brilliant maneuver that allows him to be both observant bystander and discretionary judge and, at times, even admittedly unreliable. VERDICT Versatility surely earned Lee a place on The New Yorker's 20 best writers under 40 dais; his literary voice has morphed constantly, debuting as a Korean American outsider (Native Speaker) and moving through a Japanese American doctor (A Gesture Life), an Italian American widower (Aloft), and Korean War survivors (The Surrendered). That versatility ensures Sea equal appreciation among readers who enjoy a heart-thumping adventure and doctoral students in search of a superlative dissertation text. [See Prepub Alert, 6/24/13.]-Terry Hong, Smithsonian -BookDragon, Washington, DC (c) Copyright 2013. Library Journals LLC, a wholly owned subsidiary of Media Source, Inc. No redistribution permitted.
---
Book list
From Booklist, Copyright © American Library Association. Used with permission.

*Starred Review* Lee (The Surrendered, 2010), always entrancing and delving, has taken fresh approaches to storytelling in each of his previous four novels, but he takes a truly radical leap in this wrenching yet poetic, philosophical, even mystical speculative odyssey. B-Mor is a rigorously ordered labor settlement founded in what used to be Baltimore by refugees from impossibly polluted New China. They grow stringently regulated food for the elite, who live in gated charter villages, surrounded by open counties, in which civilization has collapsed under the assaults of a pandemic and an ever-harsher climate. In a third-person plural narrative voice that perfectly embodies the brutal and wistful communities he portrays, Lee tells the mythic story of young, small, yet mighty Fan, a breath-held diver preternaturally at home among the farmed fish she tends to. When her boyfriend inexplicably disappears, Fan escapes from B-Mor to search for him, embarking on a daring, often surreal quest in a violent, blighted world. She encounters a taciturn healer bereft of all that he cherished, a troupe of backwoods acrobats, and a disturbing cloister of girls creating an intricate mural of their muffled lives. Lee brilliantly and wisely dramatizes class stratification and social disintegration, deprivation and sustenance both physical and psychic, reflecting, with rare acuity, on the evolution of legends and how, in the most hellish of circumstances, we rediscover the solace of art. HIGH-DEMAND BACKSTORY: Literary best-seller Lee will reach an even larger readership with this electrifying postapocalyptic novel as he tours the country in conjunction with an all-points media and publicity drive.--Seaman, Donna Copyright 2010 Booklist
---
Publishers Weekly
(c) Copyright PWxyz, LLC. All rights reserved

Lee's (The Surrendered) latest novel is set in a dystopic future world in which the cities of Detroit and Baltimore are now facilities, called B-Mor and D-Troy by their residents, all of whom are of Asian descent. These city dwellers spend their lives in happy serfdom, working day jobs to produce goods (mostly food) for the richer Charter communities. But when Fan, an unassuming 16-year-old with a talent for diving, abandons B-Mor in search of her vanished boyfriend, Reg, the fabric of orderly B-Mor begins to fray. Lee tells the story of Fan's quest, from the facilities to the open counties (lawless places where Fan's unwavering purpose and childlike demeanor are the only things that protect her), and, finally, to a Charter called Seneca. The narrator is the collective voice of B-Mor, who often interrupts Fan's journey with digressions on the nature of legends and the impossibility of any story surviving, unaltered, the whims of the teller. It's an engrossing read, and Lee's skills as a world builder of the finest order are evident in every chapter. Late in the second half of the book, Fan is temporarily imprisoned with a group of kept girls. All of their eyes are altered to resemble those of anime characters, and they're trapped in a white dormitory, where they magic-marker their histories onto the wall. Lee's descriptions of their images-which start as truth and then careen into a fantastic blend of imagination and interpretation-are beautiful metaphors for the way stories take on lives of their own. (Jan.) (c) Copyright PWxyz, LLC. All rights reserved.