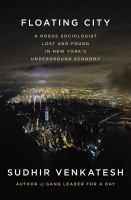 Library Journal
(c) Copyright Library Journals LLC, a wholly owned subsidiary of Media Source, Inc. No redistribution permitted.

Venkatesh's (sociology, Columbia Univ.; Gang Leader for a Day) research has attracted both scrutiny and awe from fellow academics. Most sociology books don't make best sellers lists, but Venkatesh has a talent for transforming ethnographic observations into character-driven accounts. Similar to his earlier work, in which he immersed himself in Chicago's gang culture, this is a participant-observer account of crime combined with reflections on the prescribed world of academic sociology. In this instance Venkatesh turns his attention to New York, focusing on people who inhabit the overlapping worlds of immigrant-run porn shops, escort services, the midlevel illegal drug trade, and Chelsea art galleries. By following how these people "float" among social circles and by documenting their lives, he reveals networks running between the underground and highly visible parts of New York City. VERDICT At times Venkatesh is overly reflective on his status as a "rogue sociologist" who challenges the academy rather than focusing on the questions he is probing. Nonetheless, this is an exciting and compelling work for general readers. It relies heavily on narrative techniques and is light on theory and figures. Readers interested in the daily workings of the illicit economy will be fascinated by the complexities and contradictions of the underground economy that Venkatesh details. [See Prepub Alert, 3/18/13.]-Ahmer Qadeer, Brooklyn (c) Copyright 2013. Library Journals LLC, a wholly owned subsidiary of Media Source, Inc. No redistribution permitted.
---
Publishers Weekly
(c) Copyright PWxyz, LLC. All rights reserved

Crime and vice are the ties that bind an unlikely community of New Yorkers in this fascinating X-ray of the city. Columbia University sociologist Venkatesh (Gang Leader for a Day) profiles and befriends shady strivers, from immigrant porn-shop clerks working a kaleidoscope of illicit businesses to a Harlem drug dealer who supplies well-heeled white artists and hipsters. But Venkatesh focuses on the sex trade: ghetto streetwalkers; Ivy League grads moonlighting as call girls; smug Wall Street johns who insist their dalliances strengthen their marriages; and an heiress who sets herself up as a madam. Venkatesh's engrossing narrative dissects the intricacies of illegal commerce and the subtle ways it both divides and entwines different classes and races, while painting rich, novelistic portraits of its participants and their dreams of self-reinvention. Meanwhile, he weathers his own identity crisis as he vacillates between voyeuristic journalism and scientific sociology. The latter is the book's weakest element-sketchy pensees about globalization, entropy, and "the talent to use and lose improvised social ties"-and nothing that Fitzgerald or Tom Wolfe couldn't tell you about. Fortunately, Venkatesh's vivid prose, shrewd eye, and empathy make him a worthy successor to them as a chronicler of a city on the make. Agent: Suzanne Gluck, WME. (Sept.) (c) Copyright PWxyz, LLC. All rights reserved.
---
Book list
From Booklist, Copyright © American Library Association. Used with permission.

Venkatesh, academic and ethnographer, lives within the underground economy in New York while studying it at the margins of the legal world. He states, The more I could penetrate the underground . . . if it was marginal, criminal or tinged with outsider status, count me in. He observes the essence of mobility, with people moving across physical space as well as reaching beyond their preordained lot in life. He finds extreme violence, which he describes as professional, nothing personal, and just business. And clearly, some of those he meets do not survive. At the same time, he observes kindness in the most unexpected places and people with so little reaching out to those with even less with remarkable loyalty and compassion. The people run businesses; they operate with a plan, seek profits and contain costs, hire, and fire while looking for new markets. Venkatesh brings to life the underground economy of New York, where rich and poor of varying ethnicities and backgrounds meet and function while they float. An enlightening book.--Whaley, Mary Copyright 2010 Booklist