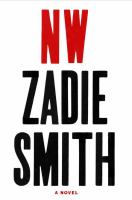 Book list
From Booklist, Copyright © American Library Association. Used with permission.

*Starred Review* In her first novel since On Beauty (2005), Smith draws on her deepening social and psychological acuity and her intimacy with North West London to portray a quartet of struggling men and women linked by blood, place, affinity, and chance. Of Jamaican descent, Keisha, who renames herself Natalie, is smart, disciplined, ambitious, and duplicitous. Anglo Leah is unconventional, fearful, compassionate, and devious. They were close growing up together in public housing but are now leading somewhat divergent lives. Natalie is a corporate lawyer with a wealthy husband, two children, and a big, flashy house. Leah works for a not-for-profit organization and is married to a sweet French African hairdresser. As girls, they had crushes on schoolmate Nathan; now he's mired in drugs, violence, and rage. Noble and ambitious biracial Felix crosses their paths just as his radiant integrity and kindness become liabilities. With exceptional discernment, wit, empathy, and artistry, Smith creates a breathtakingly intricate mesh of audible and interior voices while parsing family relationships, class and racial divides, marriage, and friendship. In this quintessential twenty-first-century urban novel depicting a vibrant, volatile multicultural world, Smith calibrates the gravitational forces of need and desire, brutality and succor, randomness and design, dissonance and harmony, and illuminates both heartbreaking and affirming truths about the paradoxes of human complexity.--Seaman, Donna Copyright 2010 Booklist
---
Publishers Weekly
(c) Copyright PWxyz, LLC. All rights reserved

The reader first meets Leah Hanwell at her most vulnerable (some might say gullible): at home, when the doorbell rings and in tumbles a desperate, unknown but not unfamiliar woman, pleading for money, which Leah provides. Although this incident soon fades into an awkward anecdote shared later at awkward gatherings, it introduces the framework of Smith's (White Teeth) excellent and captivating new novel, in which the lines dividing neighbors from strangers are not always clear or permanent. The book takes place in NW London, where characters intersect and circumvent one another's lives and, in the process, expose their ethnic distinctions and class transformations, their relationships and their secrets. Leah's childhood best friend Natalie Blake (formerly Keisha Blake) eventually becomes the primary focus and the contrast between the two women allows for some of the book's most compelling insights, namely the inevitability of vs. the disinterest in becoming a mother, which Natalie has done and Leah decisively has not. The book's middle section introduces Felix Cooper, a friend of neither woman, but whose fate will affect them both. Smith's masterful ability to suspend all these bits and parts in the amber which is London refracts light, history, and the humane beauty of seeing everything at once. Agent: Georgia Garrett, Rogers, Coleridge and White. (Sept. 4) (c) Copyright PWxyz, LLC. All rights reserved.
---
Library Journal
(c) Copyright Library Journals LLC, a wholly owned subsidiary of Media Source, Inc. No redistribution permitted.

Partway through this charged onslaught of a novel, Smith's first in the seven years since On Beauty, a young tough refusing to put out a cigarette on a children's playground says, "You can't really chat to me. I'm Hackney, so," referring to the London borough. Although it gets a rise from his challenger, the comment clarifies Smith's story. Geography is destiny, and NW (North West London), with its housing projects and increasingly marginalized community, is the force shaping the narrative. Natalie Blake (nee Keisha) grew up there but has worked hard, tugged at her Afro-Caribbean roots, and become a lawyer; friend Leah, who also got a degree (as a state-school wild card) and is now "the only white girl on [Council's] Fund Distribution Team," doesn't want to move on. They circle warily, and Natalie eventually circles back, even as other characters-ambitious Felix and heartthrob Nathan, now in the gutter-wash through the you-are-there writing. VERDICT Told in numbered, run-on chapters that occasionally offer an aphorism or poetry, Smith's elliptical prose initially frustrates, then mesmerizes; it's a brilliant, daring way to deliver real lives-and, in the end, an emotional knockout. [See Prepub Alert, 3/5/12.]-Barbara Hoffert, Library Journal (c) Copyright 2012. Library Journals LLC, a wholly owned subsidiary of Media Source, Inc. No redistribution permitted.