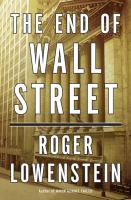 Library Journal
(c) Copyright Library Journals LLC, a wholly owned subsidiary of Media Source, Inc. No redistribution permitted.

This account of the credit crisis of 2007-08 follows many others. Being later means that Lowenstein (When Genius Fails) is able to extend his coverage into the 2009 recession and assess the financial carnage from the perspective of more time. He blames the origins of the crisis on the hubris of those in the financial industry-who deluded themselves into thinking that the credit markets would never retrench-and acquiescent politicians who saw loosened credit as a means of bolstering the economic prospects of the poor. He blames the depth of the crisis and resulting recession on early misjudgments by the U.S. Federal Reserve and the Bush administration; by the time they moved to shore up the banks in late 2008, it was necessary for the government to absorb much of the cost, which meant a weaker dollar, bigger government, higher unemployment, and increased taxes. Lowenstein is able to make arcane financial concepts like collateralized debt obligations (CDOs) and leveraged balance sheets intelligible to average readers. Verdict While CNBC reporter Charles Gasparino's The Sellout paints a more colorful picture and Andrew Ross Sorkin's frenetic Too Big To Fail focuses more specifically on the crucial events of early fall 2008, in breadth Lowenstein's work is the most complete yet to appear and is essential reading for everyone. [See Prepub Alert, LJ 12/09.]-Lawrence Maxted, Gannon Univ. Lib., PA (c) Copyright 2010. Library Journals LLC, a wholly owned subsidiary of Media Source, Inc. No redistribution permitted.
---
Book list
From Booklist, Copyright © American Library Association. Used with permission.

Lowenstein has written four books on business trends and financial crises and has written for the Wall Street Journal for more than a decade. Although the events leading up to the financial crisis of 2008 have been chronicled from many angles, Lowenstein takes a deeper look at the systemic oversights that led up to that event. The media often blames the bankruptcy of Lehman Brothers and the failure of AIG for the calamity that froze credit markets and ground the economy to a halt, leading to record job losses and the worst downturn since the Great Depression. But the structural damage to the financial system had already been in place by then, brought on by the speculative bubble in real estate nationwide, which was accelerated by lax regulation in subprime mortgages and the securitization of mortgages and endless derivatives, which spread the risk like toxic waste throughout the financial system. Lowenstein does a great job of explaining all this in understandable terms that unobtrusively avoid the injection of emotion and politics.--Siegfried, David Copyright 2010 Booklist
---
Choice
Copyright American Library Association, used with permission.

Chronicling the recent economic and financial meltdown back to 2007, Lowenstein interviewed many key government officials and financial CEOs in writing this book. He describes the excessive debt, reduced credit standards, housing speculation, use of short-term credit, and general lack of savings, all of which contributed to the crisis. Greed was rampant, especially with mortgage brokers, bankers, investment bankers, and global investors. The public was generally unaware that the serious 2008 liquidity crisis required weekend deals to forestall general financial panic. Lowenstein clearly shows that financial markets are subject to panics and that existing regulations were circumvented. Investment bankers used models to estimate risk, not credit standards or capital requirements, and leverage (frequently short-term debt) became extreme. Lowenstein also recounts the government's role in the crisis through pressures to expand home ownership, and he reports how the financial market liquidity crisis (really a capital crisis) became global. Excesses addressed by government/regulatory action included CEO pay levels, overreliance on leverage, disregard for risk, undercapitalization, and overuse of short-term financing. Lowenstein concludes that Wall Street still exists but that financial institutions are now constrained and confidence in Wall Street has eroded. General readers will enjoy this interesting account, and academicians will find the quotes and citations helpful. Summing Up: Recommended. All collections. E. C. Erickson California State University, Stanislaus
---
Library Journal
(c) Copyright Library Journals LLC, a wholly owned subsidiary of Media Source, Inc. No redistribution permitted.

Narratives of the 2007-08 financial crisis abounded in 2010, but Lowenstein (When Genius Fails) offers one of the most comprehensive, delving further into the 2009 recession than most similar titles and in a style that's understandable to lay readers. He also makes connections between the actions of overzealous financial professionals and the politicians who colluded with them. (LJ 3/15/10) (c) Copyright 2011. Library Journals LLC, a wholly owned subsidiary of Media Source, Inc. No redistribution permitted.
---
Publishers Weekly
(c) Copyright PWxyz, LLC. All rights reserved

Lowenstein (When Genius Failed) offers an overview of the causes and consequences of the financial crisis that rises above the glut of similarly themed books with its juicy behind-the-scenes detail and thoughtful analysis. He sets out to prove that the current financial difficulties began long before the summer of 2008, and long before the failure of Lehman Brothers. He begins with the history of Fannie Mae and the rise of mortgage-based securities and a dangerously burgeoning housing bubble, and hits the high points of the 2008-2009 news cycles, including Washington Mutual's unwise loan strategies, the panic following Bear Stearns's near-demise, a rash of foreclosures, TARP, and the woes of Citigroup. The insider knowledge lends flavor and context to many of these stories-a ranting Jim Cramer, Ben Bernanke's loss of confidence, and Alan Greenspan's astonishing 2008 testimony to Congress. Lowenstein's strong knowledge of the source material and flair for the dramatic-and doomsday title-should draw readers who still wonder what went wrong and how. (Apr.) (c) Copyright PWxyz, LLC. All rights reserved