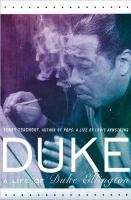 Publishers Weekly
(c) Copyright PWxyz, LLC. All rights reserved

The revealing biography chronicles the life of the legendary jazz bandleader and composer, who conjured great music out of other men's ideas. Wall Street Journal critic Teachout (Pops: A Life of Louis Armstrong) presents a charismatic, charming, debonair man who brought a new artistic depth to a disreputable popular entertainment-and a self-centered bastard who suavely manipulated everyone from his sidemen to his countless paramours. (His infidelities provoked his wife to slash him with a razor and a mistress to pull a gun when she caught him in bed with another woman.) Teachout's focus on his subject's creative process sometimes clashes with his assertion that Ellington was "the greatest composer in the history of jazz"; the unevenness of the Duke's oeuvre and his reliance on tunes appropriated from writing partner Billy Strayhorn and other band members without proper crediting raises the question of whether his "radically collaborative" methods really comport with our notion of a brilliant composer. Yet Ellington's crucial role as a shaper and solidifier of his band's improvisational musical outpourings comes through clearly in the book. Teachout neatly balances colorful anecdote with shrewd character assessments and musicological analysis, and he manages to debunk Ellington's self-mythologizing, while preserving his stature as the man who caught jazz's ephemeral genius in a bottle. Photos. Agent: Glen Hartley and Lynn Chu, Writers' Representatives. (Oct. 21) (c) Copyright PWxyz, LLC. All rights reserved.
---
Book list
From Booklist, Copyright © American Library Association. Used with permission.

*Starred Review* In the selective bibliography of this comprehensive and well-researched life of America's greatest jazz and popular-music composer and orchestra leader, there are more than a dozen full biographies; memoirs by Ellington himself (however unreliable), by his son, Mercer, and by several band members; as well as innumerable profiles and a variety of ephemera. One might have thought yet another life, admittedly a synthesis, 40 years after the subject's death might be superfluous. In this addition to our music literature, however, Teachout, drama critic for the Wall Street Journal and author of, among other writings, a biography of Louis Armstrong (Pops, 2009), abundantly justifies the effort. Though respectful and musically knowing, Teachout presents the famously evasive and not altogether admirable Ellington (among other traits, procrastination, manipulativeness, and incorrigible womanizing) scars and all, including the rarely photographed one (rectified here) on his left cheek, inflicted by his jealous wife. It is Ellington's breathtakingly enormous musical contribution (1,700 compositions, from short pieces to major suites and sacred music) and his gift for collaboration, albeit often appropriation, that is the fitting focus of this important book. Included is a list of key recordings, all currently downloadable, a perfect accompaniment to one's reading of this entertaining and valuable biography.--Levine, Mark Copyright 2010 Booklist
---
Library Journal
(c) Copyright Library Journals LLC, a wholly owned subsidiary of Media Source, Inc. No redistribution permitted.

Teachout (drama critic, Wall Street Journal; Pops: A Life of Louis Armstrong) this time tackles the life, work, and music of Duke Ellington. Although Ellington wrote an autobiography (Music Is My Mistress) and has been profiled in several other books over the years, few of these get at the complexity of Ellington's private life and his personality as a bandleader. Teachout's writing is clear, the facts seem to be well supported both from previously published sources and from interviews, and some of the awareness that the author provides (e.g., the extent to which Ellington was a collaborative composer who used ideas from his band members) will expand readers' view of the man who was perhaps the greatest jazz composer of the 20th century. Photographs sprinkled throughout are well chosen to provide support to Teachout's points in the text. VERDICT Teachout gives much insight into Ellington's life, personality, working habits, and compositions. This work should appeal to Ellington enthusiasts as well as casual jazz fans.-James E. Perone, Univ. of Mount Union, -Alliance, OH (c) Copyright 2013. Library Journals LLC, a wholly owned subsidiary of Media Source, Inc. No redistribution permitted.
---
Choice
Copyright American Library Association, used with permission.

Teachout (theater critic for The Wall Street Journal) has, by his own admission, not conducted any new research in writing this book; rather, he has "synthesized" the extensive work of researchers, academic and otherwise, that has surfaced since the last comprehensive Ellington biography, John Hasse's Beyond Category (CH, Mar'94, 31-3712). Teachout is a skillful writer, and this volume is filled with pertinent information about a figure on everyone's short list of most important jazz musicians. However the author seems to have an agenda. Part of that agenda is to make clear how much Ellington profited from the ideas of his associates, while admitting that those ideas, without Ellington's genius in developing them, would probably have amounted to little. Teachout does not shy away from the somewhat different and complex musical, personal, and professional relationship between Ellington and Billy Strayhorn. Going to great lengths to try to get inside the mind of the always private and evasive Ellington, the author focuses on Ellington's skill in and proclivity for manipulating others, including his legendary love interests. Many will disagree with Teachout's opinions about both the music and the man, but this is a major work about one of the giants of American music. Summing Up: Highly recommended. All readers. K. R. Dietrich Ripon College