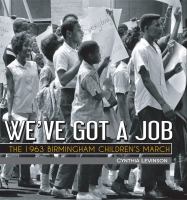 School Library Journal
(c) Copyright Library Journals LLC, a wholly owned subsidiary of Media Source, Inc. No redistribution permitted.

Gr 7 Up-This photo-essay stands out for its engrossing content, excellent composition, and riveting use of primary-source material. Covering the history of the Birmingham Children's March from inception to full impact, Levinson traces the stories of four young people between the ages of 9 and 15 in 1963. Audrey Hendricks, Washington Booker III, Arnetta Streeter, and James Stewart came from very different segments of the city's black community, but all risked their lives and spent time in jail to fight for their freedom. Tracing their different routes to activism and melding it beautifully into the larger history of race relations in Birmingham and in the American South, the author creates a multidimensional picture of the times and the forces at work. Interviews with the four principals, one of whom died in 2009, give the narrative power and immediacy. Reproductions of period photos, notices, and documents provide additional insight. The map of downtown Birmingham, with locations mentioned in the text delineated, is a great help in placing both photos and text in a landscape. With a helpful list of abbreviations, excellent source notes, photo credits, a fine bibliography, and a comprehensive index, this a great research source, but it's also just plain thought-provoking reading about a time that was both sobering and stirring. Recommended for middle and high school library collections to stand together with Charlayne Hunter-Gault's To the Mountaintop (Roaring Brook, 2012), Ann Bausum's Marching to the Mountaintop (National Geographic, 2012), and Larry Dane Brimner's Black & White: The Confrontation Between Reverend Fred L. Shuttlesworth and Eugene "Bull" Connor (Boyds Mills, 2011).-Ann Welton, Helen B. Stafford Elementary, Tacoma, WA (c) Copyright 2012. Library Journals LLC, a wholly owned subsidiary of Media Source, Inc. No redistribution permitted.
---
Publishers Weekly
(c) Copyright PWxyz, LLC. All rights reserved

This chronicle of a pivotal chapter of the civil rights movement weaves together the stories of four black children in Birmingham, Ala., who were among some 4,000 who boycotted school to participate in a march to protest segregation. Before recounting that event, during which almost 2,500 young people were arrested and jailed, first-time author Levinson opens with intimate profiles of the four spotlighted children (drawn from interviews she conducted with each of them), along with descriptions of Birmingham's racist laws, corrupt politicians, antiblack sentiment-and activists' efforts to fight all of the above. Readers also get an up-close view of such leaders as Rev. Fred Shuttlesworth, who founded the Alabama Christian Movement for Human Rights; Rev. Martin Luther King Jr., who advocated a nonviolent response; and James Bevel, a preacher who rallied the city's children and teens. Yet the most compelling component is Levinson's dramatic re-creation of the courageous children's crusade and the change it helped bring about in the face of widespread prejudice and brutality. Powerful period photos and topical sidebars heighten the story's impact. Ages 10-up. Agent: Erin Murphy, Erin Murphy Literary Agency. (Feb.) (c) Copyright PWxyz, LLC. All rights reserved.
---
Book list
From Booklist, Copyright © American Library Association. Used with permission.

*Starred Review* Even with the many fine books out there about the role of young people in the civil rights era, this highly readable photo-essay will hold YA readers with its focus on four young people who participated in the Birmingham Children's March, setting their stories against the big picture of the fight against segregation and the roles of adults. At nine, Audrey Hendricks was the youngest of almost 4,000 black children who marched, protested, and sang their way to jail, and she had the support of her church, teachers, and middle-class parents. Washington Booker lived in poverty in the projects; for him the police were the ultimate terror. Smart, academic James Stewart chose not to do sit-ins, but marching felt right. Arnetta Streeter went to young activists' training. Important adult leaders on all sides are included in the story, from Martin Luther King Jr. and the Reverend Shuttlesworth to Bull Connor, and Levinson points out not only the individuals with extreme viewpoints but also the moderates who kept quiet about the insulting separate but equal policies. The format will hook readers with spacious type, boxed quotes, and large black-and-white photos on almost every double-page spread, from the horrifying view of the Klan marching with children to the young protestors waiting to be arrested. A fascinating look at a rarely covered event for both curriculum and personal interest. Chapter notes, a time line, and a bibliography conclude.--Rochman, Hazel Copyright 2010 Booklist