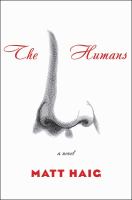 Library Journal
(c) Copyright Library Journals LLC, a wholly owned subsidiary of Media Source, Inc. No redistribution permitted.

Britain's Haig (The Radleys) makes his living at the intersection of speculative fiction, humor, and literary fiction. This time he brings readers the tale of an alien visitor from a collective society (think Star Trek's Borg) sent to Earth in the guise of Cambridge mathematician Andrew Martin, who has just made a breakthrough. His mission is to maintain the greater good by preventing the discovery from spreading and giving power to the violent and illogical human race, even if it means killing the mathematician's family. From the moment he arrives, naked and barely able to pass as human, the alien makes a funny fish out of water.and a better husband and father than the self-absorbed man he has replaced. What's he to do if he decides he can't kill them? VERDICT The protagonist's genuine joy in discovering the good things the unstable human race has produced-peanut butter, Emily Dickinson, Australian wine, the Beach Boys, dogs, and love, to name a few-is contagious. Readers of all stripes will find the results quick-paced, touching, and hilarious. [See Prepub Alert, 1/25/13.]-Neil Hollands, Williamsburg Regional Lib., VA (c) Copyright 2013. Library Journals LLC, a wholly owned subsidiary of Media Source, Inc. No redistribution permitted.
---
Book list
From Booklist, Copyright © American Library Association. Used with permission.

*Starred Review* The alien comes to Earth from Vonnadoria, an almost incomprehensibly advanced world; he comes with a sinister purpose, both to destroy and to collect information, hoping to rob human beings of their future. Assuming the person of Professor Andrew Martin, a celebrated mathematician who has made a dangerous discovery, he sets coldly and calculatedly to work. But there is a problem: though disgusted at first by humans, whom he regards as motivated only by violence and greed, he gradually comes to understand that humans are more complex than that, and, most dangerous to his mission, he discovers music, poetry, and . . . love. Becoming increasingly sympathetic to humans, he will ultimately do the unthinkable. The ever-imaginative Haig The Dead Fathers Club (2007), The Radleys (2010) has created an extraordinary alien sensibility and, though writing with a serious purpose (the future is at stake), has great good fun with the being's various eyebrow-raising blunders as he struggles to emulate human behavior. Haig strikes exactly the right tone of bemusement, discovery, and wonder in creating what is ultimately a sweet-spirited celebration of humanity and the trials and triumphs of being human. The result is a thought-provoking, compulsively readable delight.--Cart, Michael Copyright 2010 Booklist
---
Publishers Weekly
(c) Copyright PWxyz, LLC. All rights reserved

In 1859, German mathematician Bernard Riemann put forth a hypothesis that prime numbers have a pattern. In 2012, an unnamed alien is sent to Earth to ensure the hypothesis is never proven. The Vonnadorians wish to prevent humans from gaining knowledge before they are psychologically prepared for the advancements that would ensue. The invader inhabits the body of Andrew Martin, the arrogant and selfish mathematician who discovered the proof to Riemann's hypothesis; at first disgusted and confused by his human shell, the alien is eventually transformed, and the more time he spends with Andrew's wife and son, the more he comes to doubt his mission. Haig (The Radleys) creates a delightful sense of displacement in "Andrew" and draws the reader into the experiences that make us human, ugly, wonderful, and mundane by turns. While at times the novel is sentimental, the wonder and humor with which the protagonist approaches life, and the many emotions and discoveries he experiences, are worth getting a bit weepy over. Agent: Andrea Joyce, Canongate. (July) (c) Copyright PWxyz, LLC. All rights reserved.