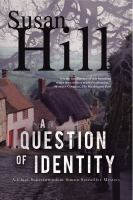 Publishers Weekly
(c) Copyright PWxyz, LLC. All rights reserved

At the outset of Hill's solid seventh procedural featuring police detective Simon Serrailler (after 2011's The Betrayal of Trust), the authorities provide builder Alan Keyes with a new identity to shield him from vigilantes after Keyes is acquitted in 2002 of the savage murders of three elderly women in Yorkshire. Ten years later, similar killings occur on Serrailler's patch. The first victim, 80-year-old widow Elinor Sanders, is found tied to a chair in her home and strangled. In an additional macabre touch, her murderer has also clipped her toenails. Since a scene featuring the thoughts of the now 42-year-old Keyes precedes the discovery of Sanders's corpse, most readers will soon suspect that he's resumed his murderous ways. Not everyone will be engaged by the vicissitudes of Serrailler's personal life (he's dating a married woman with a severely ill husband) that fill the long bloodless sections between Keyes's acquittal and the Sanders murder. Agent: Deborah Schneider, Gelfman-Schneider Literary. (Nov.) (c) Copyright PWxyz, LLC. All rights reserved.
---
Book list
From Booklist, Copyright © American Library Association. Used with permission.

The title of this, the seventh in the Simon Serrailler mysteries, gives a hint at the complexities of identity. In the novel, identity is something police and prosecutors must establish to link person and scene of the crime. It also becomes something much more fluid and pernicious as it relates to character and deception. Past informs the present here in 2002, a serial killer in Yorkshire has, incredibly to all the trial watchers, gotten away with his murders. Quick cut to 2012 and Hill's fictional town of Lafferton. An elderly woman is murdered in her home. Detective Chief Inspector Serrailler suspects a serial killer from the start. His profiling skills, based on the evidence at the scene, are impressive. Sure enough, more murder follows, with Serrailler and his squad desperately trying to catch the cunning killer. The novel is spiked with the killer's musings, which heighten tension and illuminate a very dark space. Very spooky, tick-tock suspense.--Fletcher, Connie Copyright 2010 Booklist
---
Library Journal
(c) Copyright 2010. Library Journals LLC, a wholly owned subsidiary of Media Source, Inc. No redistribution permitted.

A serial killer is targeting the residents of a recently completed senior housing neighborhood in picturesque Lafferton. His "signature" is distinctive, but his identity is particularly baffling to DCI Simon Serrailler and his team. All attempts at DNA identification and crime scene analysis hit dead-ends as police records specialists are surprisingly uncooperative. The real break in the case comes from a conversation between Serrailler and his former sergeant, who's willing to bend the rules a bit for his former guv. This seventh entry (after The Vows of Silence) in Hill's highly successful series is a tricky case for her talented DCI, filled with twists and turns and, of course, the romantic complexities that Hill's fans just love. Verdict Man Booker Prize nominee Hill has done it again! Masterly writing and just the right touch of darkness make this a marvelous addition to her DCI Serrailler series. Her fans will find this a satisfying continuation, and new readers will be captivated by the lovely village of Lafferton and Hill's superb storytelling.-Susan Gene Clifford Braun, Bainbridge Island, WA (c) Copyright 2012. Library Journals LLC, a wholly owned subsidiary of Media Source, Inc. No redistribution permitted.