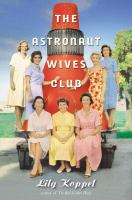 Publishers Weekly
(c) Copyright PWxyz, LLC. All rights reserved

In this entertaining and quirky throwback, journalist Koppel (The Red Leather Diary) revisits the ladies who cheered and bolstered their men to victory in the U.S. space program from the late '50s through early 1970s, revealing public triumph and rarely private agony. Koppel looks at the history of the race to space, starting with the Mercury Seven of April 1959, and focusing on the wives: e.g., Louise Shepard (wife of Alan), Betty Grissom (Gus) and Annie Glenn (John), young women who wore teased hair, bright lipstick, and cat-eye sunglasses, and towed numerous small children. The wives had to be gracious to the Life magazine reporters who invaded their homes, concealing unpleasant domestic details, such as marital discord, philandering husbands, and unseemly competition with other wives. The wives were invited to live at or near the Langley, Va., Air Force base, where the astronauts trained before relocating to Houston (aka Space City, USA) in 1962; the women socialized with each other, toured the White House with Jackie Kennedy, and watched their husbands' launches on TV together over champagne and cigarettes. Some missions ended in tragedy, such as when a failed test flight in 1967 resulted in the deaths of Grissom, Ed White, and Roger Chaffee. The Gemini and the Apollo missions followed, compelling the wives of legendary astronauts Collins, Aldrin, and Armstrong, among others, to endure seeing their husbands go on dangerous moon missions. This is truly a great snapshot of the times. Agent: Larry Weissman. (June) (c) Copyright PWxyz, LLC. All rights reserved.
---
Library Journal
(c) Copyright Library Journals LLC, a wholly owned subsidiary of Media Source, Inc. No redistribution permitted.

In her newest work, Koppel (The Red Leather Diary: Reclaiming a Life Through the Pages of a Lost Journal) takes up the story of the wives of astronauts from the Mercury, Gemini, and Apollo projects (with references to wives of astronauts from Space Shuttle missions as well). Her engaging narrative provides an in-depth look at military wives who became instant celebrities when their husbands were chosen for the space program. Along with the fame came intense media scrutiny; the wives felt pressured to compete for Stepford-wife-like perfection. The inability to publicly admit to concerns or problems made them turn to each other for support. Through death, infidelity, and scandalous divorce, these women have formed a network of strength and friendship. Koppel interviewed many of these women and attended one of their regular reunions. -VERDICT The author's aim was to uncover the real lives behind the "perfect" astronaut wives, and she hits the mark, crafting an exceptional story that seriously examines the imperfection and humanity of America's heroic astronauts, their wives, and their families. This work will hold vast appeal for armchair historians, and those interested in feminism, women's history, and 20th-century history.-Crystal Goldman, San Jose State Univ. Lib., CA (c) Copyright 2013. Library Journals LLC, a wholly owned subsidiary of Media Source, Inc. No redistribution permitted.
---
Book list
From Booklist, Copyright © American Library Association. Used with permission.

Koppel offers a revealing glimpse into the lives of the women behind the spacemen from Project Mercury, of the Kennedy years, to the two-man Gemini missions and finally the Apollo program. Beginning with the announcement in 1959 of the seven Mercury astronauts, Koppel paints chatty, personal portraits of each woman as she adjusts to dramatic changes: one day she's living the life of an ordinary military wife; the next she's married to a major celebrity. The wives were closely monitored by NASA and expected to be perfect, right down to what they wore and what food they served their husbands. They needed a support group, so the Astronaut Wives Club came into being in 1966. Over the years, they worked together in myriad ways, from helping the wives whose husbands died in crashes or Apollo I's disastrous launch-pad fire to sleeping in the Lovell's living room while Jim Lovell was orbiting the moon on Christmas Eve 1968. The U.S. moon program ended in 1972 but many of these unique women still remain connected, friends now for more than 50 years.--Donovan, Deborah Copyright 2010 Booklist