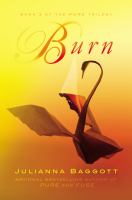 Library Journal
(c) Copyright Library Journals LLC, a wholly owned subsidiary of Media Source, Inc. No redistribution permitted.

Pures and Wretches continue to battle for the fate of a devastated world in the final volume in Baggott's trilogy (Pure; Fuse). After the death of his father, Partridge has taken over leadership within the dome where those unaffected by the Detonations lead their privileged lives. But his desire to tear down the lies the Pures have been told means facing off against all those who want to use him as a political puppet. Outside the dome, estranged lovers Pressia and Bradwell race to bring a cure to those fused and mutilated Wretches and bring down the dome. But the couple aren't sure they can still trust Partridge to help them. -VERDICT This series conclusion is even darker than usual for dystopian sf, with the agonies of misplaced affections and misunderstood love on top of the grim story line, but those invested in Baggott's characters will want to see how the trilogy ends. [See Prepub Alert, 8/12/13.] (c) Copyright 2014. Library Journals LLC, a wholly owned subsidiary of Media Source, Inc. No redistribution permitted.
---
Book list
From Booklist, Copyright © American Library Association. Used with permission.

Partridge has murdered his evil father, Willux, and assumed control of the Dome, his goal to effect a rapprochement between the Pures, who live in the Dome, and the Wretches, who are survivors of the Detonations and whom the Pures regard as no longer human. Meanwhile, Pressia, Bradwell, and El Capitan are attempting to reach the domed city with conflicting missions: Pressia plans to deliver a medication and its formula that might cure the Wretches, who are badly mutilated, fused to whatever object they happened to be near when the Detonations occurred (El Capitan and his brother Helmud are fused); as for El Capitan and Bradwell, they plan to destroy the Dome even if it means revolution. To complicate matters, both El Capitan and Bradwell are in love with Pressia; how will this affect their missions? Baggott's conclusion to her monumental Pure trilogy about a postapocalyptic, strife-torn world is hardly original, but it's effective in its dramatic, occasionally suspenseful treatment of its subject and in its charismatic characters. Readers should be aware, however, that this is not a stand-alone title; to understand its complexities, it's necessary to have read the preceding two volumes.--Cart, Michael Copyright 2010 Booklist
---
Publishers Weekly
(c) Copyright PWxyz, LLC. All rights reserved

Baggott finishes her Pure trilogy (Pure; Fuse) unevenly, with the generally phenomenal worldbuilding subsumed by a largely predictable and straightforward conclusion. "Pures" live in the Dome, which protects them from a harsh postapocalyptic environment in which "Wretches" are often fused with objects. Young Pure Partridge has taken over leadership of the Dome after killing his father, while his sister, Pressia, works with Bradwell, El Capitan, and Helmud to discover a cure for the fusing. There's some good stuff early, as Partridge deals with a rebellion and the implications of his newfound knowledge that the Pures are unlikely to survive, but the inevitable trip back by Pressia and her friends is too often tension-free, even when they attempt to rescue their old ally Hastings from monstrous Dusts. Interesting philosophical issues are obscured by predictably heroic casualties and leaden action scenes. There's still enough meat to at least bring the story to a satisfying ending for longtime readers, but the routine wrap-up undercuts Baggott's previous vision. (Feb.) (c) Copyright PWxyz, LLC. All rights reserved.