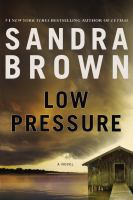 Library Journal
(c) Copyright Library Journals LLC, a wholly owned subsidiary of Media Source, Inc. No redistribution permitted.

Bellamy Lyston's promiscuous sister, -Susan, was murdered 18 years ago, right before a tornado touched down. As part of her therapy, Bellamy used a pen name and wrote a best-selling novel based on the terrible experience. However, someone unhappy about the renewed attention to the case begins to stalk Bellamy, who turns to Susan's old boyfriend for help.ÅVERDICT Brown, one of the queens of romantic suspense, earns another A+ for the suspense portions of her latest novel. As always, she does a great job managing a large number of characters and keeping her readers guessing. Unfortunately, the romance seems forced and unnecessary. Maybe it's time for Brown to recalibrate that part of her very successful formula. Recommended for fans of Brown and modern suspense. [See Prepub Alert, 3/21/12.]-Samantha J. Gust, Niagara Univ. Lib., NY (c) Copyright 2012. Library Journals LLC, a wholly owned subsidiary of Media Source, Inc. No redistribution permitted.
---
Book list
From Booklist, Copyright © American Library Association. Used with permission.

An author whose (pseudonymous) debut novel is an instant best-seller is revealed to be the survivor of a horrific family tragedy. Now, her identity no longer a secret, she's forced to revisit the events she's spent so many years trying to bury and to find out, finally, who murdered her sister almost two decades ago. Brown's latest thriller should appeal to her many fans. It has a solidly constructed story, with just enough twists and turns to keep readers guessing; a strong and engaging protagonist; and some very effective writing. Readers who are well versed in the thriller genre might see some of the author's surprises coming, but even if you know what's going to happen, it doesn't ruin the enjoyment of the novel. Brown is a proven entity, a big-name writer who reliably delivers the goods, and demand for this title should be high.--Pitt, David Copyright 2010 Booklist
---
Publishers Weekly
(c) Copyright PWxyz, LLC. All rights reserved

In this breathless romantic thriller from bestseller Brown (Lethal), Bellamy Price hopes that her debut novel, the pseudonymous Low Pressure, will be therapeutic. Instead, Low Pressure reopens many old wounds in Austin, Tex., after Bellamy's identity becomes known, and the public learns the novel is based on the murder of her sister, Susan, 18 years before. Among those most upset is pilot Denton Carter, Susan's one-time boyfriend and a prime suspect until his alibi proved convincing. Another is Ray Strickland, the brother of the man convicted of the crime and later killed in prison. When both Bellamy and Denton are targeted in attacks, digging further into Susan's murder becomes imperative for both. As they re-examine the unsavory roles played by officials involved in the case, Bellamy must face new truths about Susan and other members of her family. Sexual tension fueled by mistrust between brash Denton and shy Bellamy smolders and sparks in teasing fashion throughout. Agent: Maria Carvainis, the Maria Carvainis Agency. (Sept.) (c) Copyright PWxyz, LLC. All rights reserved.