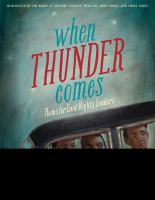 Publishers Weekly
(c) Copyright PWxyz, LLC. All rights reserved

Poet Laureate Lewis casts a wide net in these stirring poems about civil rights, which highlight figures as multifarious as Gandhi and Harvey Milk, and are illustrated by five artists. The graceful and distinctive paintings offer visual homages to each subject. Milk speaks punctiliously ("They say I came before my time/ but who else would redress/ unmitigated suffering due/ to such small-mindedness?"), while Mitsuye Endo, a Japanese-American woman interned during WWII, speaks with humble defiance: "I was a typist, nothing more./ I loved my life, I hated war." Children's books on the subject of civil rights can sometimes result in a generic roundup of instrumental leaders; Lewis's surprising and welcome integration of lesser-known individuals provides a holistic and enlightening look at an always pertinent topic. Ages 8-12. (Feb.) (c) Copyright PWxyz, LLC. All rights reserved.
---
School Library Journal
(c) Copyright Library Journals LLC, a wholly owned subsidiary of Media Source, Inc. No redistribution permitted.

Gr 7 Up-Lewis once again stretches his own poetic boundaries with this moving and informative collection of poems that introduce 17 courageous leaders of civil rights causes in America, Bangladesh, Burma, India, and South Africa. Some of the names will be unfamiliar to teens, but their concerns should be clearly understood. A technically perfect Shakespearean sonnet prefaces the collection, promising to draw from the poet's "thin bag of verse" some "tales of thunder" ... "For history was mute witness when such crimes/Discolored and discredited our times." The poems, written in various styles-rhymed couplets, free verse, quatrain, prose-evoke sadness, but never hopelessness; speak of bigotry and hatred replaced by acceptance and equality; and describe inhumane mistreatment that has resulted in positive change and wrongful punishment that has brought about freedom. To young Sylvia Mendez, every door at the public school "was locked with a secret combination of frowns," but she found the key. To Muhammad Yunus, a Bangladeshi banker who gave small loans to the country's poor, money for fishing gear allowed some beggars "to catch eel and carp-and profits." Other subjects include Harvey Milk, Coretta Scott King, Josh Gibson, Aung San Suu Kyi, and Nelson Mandela. A note about each person, with a resource, is appended. Five illustrators each contributed three of the full-page paintings that range from softly detailed portraits in lush oils to colorful caricatures, acrylic folk art, and bright watercolors contrasted with shadowy gray. This thoughtfully written, carefully and cleverly worded collection demonstrates Lewis's poetic versatility and his ability to capture the essence of each subject and situation.-Susan Scheps, formerly at Shaker Heights Public Library, OH (c) Copyright 2013. Library Journals LLC, a wholly owned subsidiary of Media Source, Inc. No redistribution permitted.
---
Book list
From Booklist, Copyright © American Library Association. Used with permission.

*Starred Review* Seventeen civil rights leaders from around the world leap off the page, animated in pulsing verse and vibrant imagery. Lewis gives voice to a variety of fighters, including well-known activists like Mohandas Gandhi and Coretta Scott King, and less familiar heroes such as Dennis James Banks and Sylvia Mendez, illuminating each with poetic form, style, rhythm, and tone as individual as the subjects themselves. Mamie Carthan Till's elegy for her murdered son, Emmett, heaves with languid despair, while Aung San Suu Kyi's proclamation against Burmese tyranny crackles with ironic outrage. The diversity of images is similarly stunning, with some unlikely pairings of artist to activist resulting in extraordinarily moving depictions. John Parra's gentle portrait of Bangladeshi banker Muhammad Yunus glows with warmth and virtue, while Meilo So's smudgy likeness of slain politician Harvey Milk captures his determination and foreshadows his demise. Exquisite book design with hand-lettered titles and stanzas carefully off-kilter knits everything together with cohesive polish. While the individual portraits are impressive on their own, their juxtapositions express unmistakable equality, offering readers a profound understanding of both what it takes to stand up and what happens when we stand together.--Barthelmess, Thom Copyright 2010 Booklist