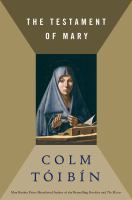 Library Journal
(c) Copyright Library Journals LLC, a wholly owned subsidiary of Media Source, Inc. No redistribution permitted.

An elderly woman lives alone, rarely leaving home. Her husband has died, and her son has been killed for proclaiming to the masses that he is the son of God. Following his brutal crucifixion, Mary has moved to Ephesus in Asia Minor to live in relative anonymity. Two unnamed men visit her often, wanting to hear about the events that led to the end of Jesus's life, but she does not want to speak of it. The visitors attempt to convince her that they are writing gospels of her son's life because his story will change the world forever. In what first appeared as Testament, a stage play presented in Dublin during the fall of 2011, award-winning author Toibin (Brooklyn; The Master) converts the canonized Saint Mary into a real woman who struggled mightily with fear, guilt, and pain. VERDICT Toibin's play, now published as a novella, offers a moving and thought--provoking take on the life of a religious icon, which will resound with most readers who have an interest in the events surrounding the beginnings of Christianity. [See Prepub Alert, 5/20/12.]-Susanne Wells, Indianapolis P.L. (c) Copyright 2012. Library Journals LLC, a wholly owned subsidiary of Media Source, Inc. No redistribution permitted.
---
Book list
From Booklist, Copyright © American Library Association. Used with permission.

*Starred Review* Acclaimed Irish novelist Toibin (The Master, 2004, among others), in an audacious move, submits a novelization of the later years of a figure less historical than symbolic that is readable in one sitting, which brings its brilliance into even finer focus.Mary, the mother of Jesus, sits in uncooperative silence in the ancient biblical town of Ephesus as she is hounded by her son's apostles, who are desperate for memories she can share with them to aid in their intention to write about Jesus' life (in what, of course, will become the four Gospels of the New Testament). Mary insists that she remembers nothing. The truth is, she is flooded by memories, and with great articulation and introspection, she supplies us with a first-person narrative that will surprise and fascinate readers used to a more traditionally kind and gentle Virgin Mary. Of the apostles, Mary recalls a group of misfits. Her impression of her son's ministry is that it was not simply boring but also artificial. He was radiant and powerful in human interaction, yes, but she scoffs at the notion of him being the son of God. She does understand that her son's agony and death on the cross were the denouement of a planned program for the sake of the future, and she admits that she did not wait at the foot of the cross for him to die but instead fled the scene out of fear for her safety. But of his gruesome end, she proposes to the apostles, When you say that he redeemed the world, I will say that it was not worth it. A stunning interpretation that is as beautiful in its presentation as it is provocative in its intention. HIGH-DEMAND BACKSTORY: Toibin has become a literary star of the first order, twice shortlisted for the Mann Booker Prize.--Hooper, Brad Copyright 2010 Booklist
---
Publishers Weekly
(c) Copyright PWxyz, LLC. All rights reserved

Toibin (Brooklyn) has chosen Jesus' mother as the narrator of his poignant reimagining of the last days of Christ. Mary doesn't think her son is the son of God; in fact, she's convinced that he's simply running with the wrong crowd, "Something about the earnestness of those young men repelled me... the sense that there was something missing in each one of them." But when she recounts the story of Lazarus's return from the grave, she presents no other explanation than that of his sisters, that Jesus was the one who brought him back. At the wedding at Cana, she sees Lazarus for herself and finds that "he was in possession of a knowledge that seemed to me to have unnerved him; he had tasted something or seen or heard something which had filled him with the purest pain...." This beautiful novella turns on who or what Mary should believe about her son's life and death-and on a mother's grief: "I saw that once again he was trying to remove the thorns that were cutting into his forehead and the back of his head and, failing to do anything to help himself, he lifted his head for a moment and his eyes caught mine." Agent: Rogers, Coleridge & White. (Nov. 13) (c) Copyright PWxyz, LLC. All rights reserved.