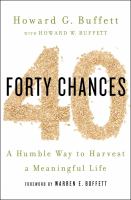 Book list
From Booklist, Copyright © American Library Association. Used with permission.

The forty chances in the title of this inspiring manifesto on ending world hunger refers to the average number of growing seasons in a farmer's career and, by way of analogy, the amount of opportunities we have to realize our dreams. Howard G. Buffett, a famed philanthropist and farmer himself, takes this notion as a springboard to describe his vision and recount his efforts so far to address poverty and starvation both at home and in the Third World. Fittingly, the author presents 40 stories about his mission, beginning with his own upbringing under the watchful eye of his father, legendary billionaire Warren Buffett, who taught his children to respect the dollar and those in need. During visits to Africa as a teen, Howard saw this deprivation up close and has since returned there to teach farming methods, although he is as honest here about his failures as his successes. With contributions from his own son, Howard W., Buffett's work is both an informative guidebook and a catalyst for igniting real changes in the world.--Hays, Carl Copyright 2010 Booklist
---
Publishers Weekly
(c) Copyright PWxyz, LLC. All rights reserved

A son of legendary investor Warren Buffett (who provides the foreword), Howard G. Buffett considers himself a farmer first and foremost. He explains that all farmers get 40 growing seasons in their lifetime, giving them just 40 chances to improve. In 40 chapters-constructed as elegant essays-Buffett describes his quest to make a difference in the world, which began well before his father established philanthropic foundations for his three children. The younger Buffett has focused his foundation on wildlife conservation and world hunger. Here, he recounts his personal and professional experiences in surprisingly candid and colorful fashion. An accomplished photographer, Buffett humanizes his stories with his own pictures: from a young boy in ankle chains whom he encountered in Senegal, to a shy village girl in Sierra Madre, to a subsistence farmer digging zai pits in Mozambique. Buffett invites his son Howard W. Buffett, also a philanthropist, to contribute a few chapters, but unfortunately these miss the mark. Despite this shortcoming, the book successfully blends personal stories with a tough look at the struggle to fight domestic food scarcity and world hunger. Those interested in these issues or global philanthropy are sure to find this a satisfying read. B&w photos throughout. Agent: Jillian Manus, Manus & Associates Literary Agency. (Oct.) (c) Copyright PWxyz, LLC. All rights reserved.
---
Library Journal
(c) Copyright Library Journals LLC, a wholly owned subsidiary of Media Source, Inc. No redistribution permitted.

Buffett (president, Howard G. Buffett Fdn.), son of Warren Buffett, is a philanthropist trying to tackle the problem of global food insecurity. Basing his argument on the premise that a farmer (which is how the author describes himself) has 40 growing seasons in a lifetime during which to improve harvests, Buffett posits that we all have the same time (hence the title) to make a difference in our own charitable endeavors. In 40 chapters, arranged according to vague themes (e.g., "Bravery, Courage, and Hope," "Hard-Learned Lessons"), he offers stories of his own foundation's work, including areas in need of progress and further investigation. In projects such as helping farmers enhance soil conditions and grow and market applicable crops, Buffett has sought to provide people with the tools to change their situations and compound the benefits for those who come after. He is in favor of genetically modified crops such as Monsanto's, which will leave some readers wondering about his relationship with agribusiness. VERDICT If Buffett had narrowed his scope in order to stay focused and go deeper, the book would have had greater value. As is, it comes across more as a vanity publication, albeit one with good intentions at its core. [See Prepub Alert, 4/29/13.]-Jenny Contakos, Art Inst. of Virginia Beach Lib. (c) Copyright 2013. Library Journals LLC, a wholly owned subsidiary of Media Source, Inc. No redistribution permitted.