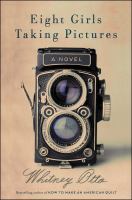 Library Journal
(c) Copyright Library Journals LLC, a wholly owned subsidiary of Media Source, Inc. No redistribution permitted.

Otto, the best-selling author of How To Make an American Quilt, returns with a compelling novel about the interconnected lives of eight female photographers. In the beginning, the novel reads like a collection of short stories, but it is gradually revealed that many of the "girls taking pictures" meet or influence one another's lives and art across the decades. The story is wide-ranging, spanning most of the 20th century and locations from San Francisco to New York to London, Berlin, and Buenos Aires, but at the center of each of the eight stories is a fascinating woman, often struggling with the traditional gender roles and societal expectations, as she seeks to establish herself as a photographer with her own unique perspectives and abilities. Otto skillfully develops each character and draws the reader in with rich detail that must be the result of careful and extensive research. VERDICT Highly recommended; those with an interest in photography, women's history, or feminist literature should particularly enjoy. [See Prepub Alert, 5/20/12.]-Shaunna Hunter, Hampden-Sydney Coll., VA (c) Copyright 2012. Library Journals LLC, a wholly owned subsidiary of Media Source, Inc. No redistribution permitted.
---
Book list
From Booklist, Copyright © American Library Association. Used with permission.

Inspired by the careers of such ground-breaking photographers as Lee Miller, Imogen Cunningham, and Grete Stern, Otto combines her personal passion for the art of photography with her perceptive impressions of what life must have been like for those women who pursued their own creative and philosophical muses during times when to be anything other than a wife-and-mother was to be an outcast from society. Through loosely interconnected tales, Otto introduces eight exemplary fictional women photographers whose lives and works document the exhilarating intersection of early-twentieth-century art and feminism. Traversing the world from Berlin to Buenos Aires, Otto's heroines find themselves both catalysts for and captives of changing times and values. From the makeshift darkroom of the pioneering Cymbeline Kelley to the Parisian portrait studio of Amadora Allesbury to the New York landscapes captured by Miri Marx, Otto's photographers battle society's denunciations and personal demons as they seek love, acceptance, success, and harmony. A visionary and distinctive look at the sacrifices and triumphs of daring women artists.--Haggas, Carol Copyright 2010 Booklist
---
Publishers Weekly
(c) Copyright PWxyz, LLC. All rights reserved

Of the girls who take the pictures-Cymbeline, Amadora, Clara, Lenny, Charlotte, Miri, Jessie, and Jenny-the first six are based on real photographers. Some, like Imogen Cunningham and Lee Miller, are quite well known, and others, like Grete Stern, less so, but even the more fictional Jenny Lux bears a resemblance to Sally Mann, if not in her life, in her work. These women lead interesting, bohemian lives: they take lovers, travel, get involved in wars and revolutions, but what they really have in common is the struggle to find their voices, to deal with and confound expectations of women (which change over the century covered here, but not enough), and to balance work with love and motherhood. So far so good, but the problem is that Otto (How to Make an American Quilt), who calls the book "my mash note, my valentine to these women photographers," doesn't succeed in integrating her fine research into a fictional work that stands on its own: though the women's lives start to connect at the end, throughout most of the book it's not clear that linking their stories makes a whole that is greater than the sum of its parts. Agent: Joy Harris. (Nov.) (c) Copyright PWxyz, LLC. All rights reserved.