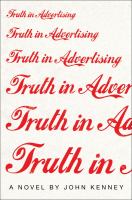 Publishers Weekly
(c) Copyright PWxyz, LLC. All rights reserved

The debut novel from New Yorker humorist and former advertising copywriter Kenney is a hilarious ad-world satire and a modest family drama. Finbar Dolan has a successful career in commercials, managing a diaper account for a big New York agency. Otherwise, Fin's life is a mess: he broke up with his fiancee a month before their wedding, is infatuated with his office assistant, Phoebe, and is estranged from his entire family. When his workaholic boss drags him into the office over Christmas to craft a Super Bowl commercial for biodegradable diapers (one of the concepts involves attaching Al Gore's head to a global parade of Earth-friendly babies) and his abusive, long-lost father turns up in the hospital, Fin's universe is tipped on its ear. The advertising insider lore and commercial shoot set pieces are golden; the family drama is less successful. Although set up to seem high stakes, events outside Fin's control guide his family crisis away from father-son conflict and toward less compelling internal struggles. As a satire, the novel is willing to bite off an ambitious chunk of popular culture, but as a human drama, it chooses to make safe choices. Even so, much is a comic tour de force; fans of Nick Hornby and Jonathan Tropper will have a new author to watch for. Agent: David Kuhn. (Jan.) (c) Copyright PWxyz, LLC. All rights reserved.
---
Book list
From Booklist, Copyright © American Library Association. Used with permission.

*Starred Review* Finbar Dolan, a copywriter churning out mediocre commercials for a Madison Avenue ad agency, views himself as if through a long camera lens, using denial and humor to avoid a painful past and feelings of failure. Christmas, for him, will be spent alone in Mexico at least that's the half-baked plan. Until his boss assigns Fin the impossible task of writing, prepping, producing, editing, and mixing a Super Bowl ad over the holidays for the world's first eco-friendly diaper. Then his estranged brother tracks him down. Their abusive father is in the hospital, and it's up to Fin to visit the dying man because no one else will. Over the course of a wacky commercial shoot, Fin learns about forgiving, loving, reconnecting with family, and finally telling the truth to himself and others. Here is a close-up view of the advertising world, the artistic misfits who people it, and one man's grasp at happiness. Written by a former copywriter and contributor to the New Yorker, Kenney's debut novel is a masterful blend of wit and seriousness, stunning in its honesty. A novel sure to appeal to fans of Nick Hornby.--Holcomb, Diane Copyright 2010 Booklist
---
Library Journal
(c) Copyright 2010. Library Journals LLC, a wholly owned subsidiary of Media Source, Inc. No redistribution permitted.

Finbar Dolan, a thirtysomething writer at a prominent New York advertising agency, is lost. Life in New York has no more appeal. And while he enjoys the perks of first-class travel and his large salary, writing diaper commercials has become meaningless. Distanced from his siblings, Fin is thrown off course when his brother calls with news that their estranged father is dying; Fin is further surprised to find himself at his father's bedside at Christmas. Now with a deadline looming on a Super Bowl commercial, Fin struggles to forgive his parents, figure out what is important, and finally say what he means to those about whom he cares the most. VERDICT This debut novel by a frequent New Yorker contributor is not a coming-of-age tale, but it carries that same wonder of transition as you watch Fin Dolan grow and change. With wry wit, excellent pacing, and pitch-perfect, often hilarious, dialog, Kenney has created something remarkable: a surprisingly funny novel about an adult American male finally becoming a man. Highly recommended.-Jennifer Beach, Cumberland County P.L., VA (c) Copyright 2012. Library Journals LLC, a wholly owned subsidiary of Media Source, Inc. No redistribution permitted.